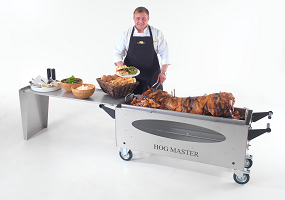 It's always an arduous task arranging the catering for a big event. Or even a small event. We all know the headaches involved: organising unreliable caterers, trying to decide on suitable food, finding the right tableware. But hog roast Alfreton has the solution! When you book with hog roast Alfreton to cater for your event you get the finest quality food, cooked to the highest standard, and a professional and completely reliable service.
We have been working in the catering industry for many years and have gained a reputation for excellence; we've even picked up a number of catering awards along the way. Here at hog roast Alfreton we pride ourselves on our fabulous roasted meats and our attention to detail.
Every function we are asked to cater for is treated to the same high degree of care, whether it's a small private gathering or a large corporate party. We even have a specialised service for very formal events such as weddings, where we understand that even the smallest detail must be perfectly prepared.
A hog roast is quite an event in itself. It's as much a feast for the eyes as for the appetite and makes a great centre piece for any event. Our talented chefs will arrive to roast the meats of your choice while your guests mingle and chat. And because we use our specially designed roasting ovens, we can offer a wide choice of meats, sauces and vegetables for your delectation.
We take care of the food while you enjoy the company of your guests as the subtle aromas of meats, stuffing and crispy crackling radiates around the venue ensuring everyone is truly ready for the magnificent banquet.
Because we are so passionate about what we do, and want everyone to be able to enjoy a genuinely made hog roast, we have prepared several menus which we feel reflect the needs of a number of styles of events. Of course the whole roasted pig is our signature dish, but we also cook top grade whole lambs, beef, rotisserie chickens and turkeys. Our menus also come with a selection of sauces, salads and canapés for you to choose from.
The Best Hog Roast In Alfreton
Our whole hog roasted pig is always accompanied by our own warm stuffing and tasty apple sauce which beautifully compliments the delicate taste and texture of the roasted meat. And for all you connoisseurs out there, our crispy crackling is simply second to none!
And our commitment to hog roasting doesn't end there. So dedicated are we to this fantastic method of cooking that we have included an option to hire within our services. Hog roast hire Alfreton can now offer you a choice of two top of the range roasting ovens if you decide you'd like to be a chef for the day.
No one is better placed than hog roast hire Alfreton to understand the needs of today's budding caterers. Our ovens provide a cost effective means by which to prepare delicious food that is also healthy, nutritious and hunger satisfying!
If you are considering hiring one of our machines for a private party but have concerns about the size of the machine, or where you might place it, let us quash your worries by explaining that we have custom designed our ovens for ease of manoeuvrability.
As caterers ourselves we really do understand the importance of being able not only to transport the machines, but to get them through doorways and over diverse terrains: which is why all our ovens come fitted with strong wheels, handles and will fit through standard doorways. We have also chosen to make the ovens from durable stainless steel, which gives them a pleasing appearance and makes cleaning and maintenance a doddle.
All our ovens are gas powered. They come with an easy to use ignition switch and handy thermostat control so the user can be sure not to over or under cook their chosen meats. And each and every one is fully CE registered so you can have total peace of mind with regards safety.
Cooking with one of our ovens couldn't be easier. There are several tools and attachments such as the spit roast pole and motorised rotor for spit roasting whole lambs or pigs. The grill attachment means you can simultaneously spit roast and barbeque in order to offer your guests a wider choice of food. And the grill can also be used with pans for sauces or vegetables.
With our incredible ovens anyone can turn out beautiful, professional meals at an affordable price!