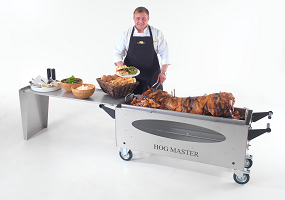 The Isle of Wight is the largest of Englands Islands – boasting a large population and diverse forms of industry and economical pursuits.
Separated from the English mainland by a narrow strip of water call 'The Solent,' the Isle of Wight is as popular with tourists as any other part of Britain. Our clients have been absolutely enamoured with our take on the ancient yet unparalleled form of meat preparation; the hog and spit roast catered event.
Just as is the case with our wedding and corporate hospitality catered event, our services have become more and more in demand on behalf of the populace as a whole. In terms of industry, the Isle of Wight relies heavily on tourism these days.
However, the phenomenon of large-scale tourism is by no means a new facet on the Isle of Wight. Famous people throughout history loved travelling to the Isle of Wight so much that many of them decided to settle here – how fantastic!
Famous names who adhere to this were Alfred Lord Tennyson and the late Queen Victoria. Making houses in and around places such as Chillerton and Pondwell, the list of famous dignitaries who have graced the island with their presence goes on and on.
However, to say that the Isle of Wight is just merely a tourist destination is to miss out major elements. In recent decades, the British Rocket project operated from the Isle of Wight, not far from Whippinghham.
Along with this link to scientific industry, the Isle of Wight also hosted the Isle of Wight festival in the 1970's, which was the largest rock concert of its type at the time – truly eclectic!
At present we have fully trained and dedicated staff members who've over the years helped us cater for thousands of people, at everything from Christmas parties to weddings and summer time hog roast beach barbecues.
The popularity of hog roasting continues to grow, year after year, as we reach more people with our amazing food. It's no surprise that an Island with a proud cultural tradition and history with much love for farming and food has taken to our hog roast catering so quickly.
We currently cater for hundreds of clients ever year and also have a machine hire and sale service which is increasingly popular with fellow restaurateurs and caterers. We've also had the good fortune of catering at many of the Isle of Wight's iconic festivals and celebrations.
One of the fastest rising services in the catering industry is spit roasting, and at hog roast event catering we've been spit roasting relentlessly for decades.
We know everything there is to know about spit roasting and perfected our craft over the years with plenty of hard work and a very real passion for hog roasting that isn't shared by others.
Hog roasting is food heaven and we like to fancy ourselves as the God of that Heaven. We're recognised as being one of the few innovators in the industry, constantly adapting and improving our hog roast service, never settled with being okay and always striving to remain the best there is.
The reputation we've built for our hog roast catering is nothing short of formidable and we can cater at events whether 10 people or 1000 people. As soon as you make contact with us we aim to return a quote(s) for your event on the same day and your assigned chef will always be available to assist you with organising your hog roast event.
Spit roasts are one of the finest ways to cater for people, no matter if the event is an extravagant and very special wedding, a corporate function or a small birthday party. The menus that we have are designed in such a way as to ensure nobody is left out from the services we offer, there's a menu to suit every individual person no matter the size or nature of your event.
The catering services that we offer are also in accordance with all food and hygiene regulations. We take great pride in running a company that pulls no punches when it comes to standards and quality.
The services we offer are up there with the best in the world and because of our great prices there really is something for everybody. Client satisfaction is a requirement and we haven't met a client yet who wasn't blown away by the food and quality of the service we've provided.
"Exquisite", "Mouth watering", "Godly" – Are just a few sound bites our staff are used to hearing at any given event. Some of the most important factors in our food tasting as good as it does are in the wonderful resources that we have at hand.
We're able to employ a hugely talented and passionate team of staff members, who love hog roasting almost as much as I do and use hog roast machines that are top drawer in every way. The machines, like our catering service itself, meet all industry regulations.
They're designed and manufactured by us, crafted by the finest engineers and with the highest standard materials. You will struggle to find equipment better than what we have. But the trick to a good spit roast has always and will always be the food.
You aren't going to get the best food out of a spit roast machine unless you put the best food in, no matter how good the machine or the chef. The produce used plays a fundamental role in why our food tastes as great as it does.
The reason our hog roasts are as tasty as they are is because we insist upon using the best produce, we get all our animals from local farmers and butchers and only accept the good stuff. We believe ultimately that cutting corners is futile, and our success is owed much to our refusal to cut corners on cost.
The food and service that we offer will send your taste buds into over drive. If you want a theatrical masterpiece that looks as good as it tastes then you needn't look any further than Taste the Cracklin, the Isle of Wight Hog Roast Event caterers.