We spent a delightful day in the countryside earlier today, catering for a lovely couple's 50th wedding anniversary. Fifty years is, of course, a Golden Wedding celebration, and it was extra-special for this pair as they were actually together 10 years before they married, too. 60 years together… Incredible!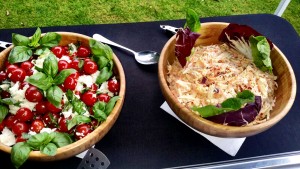 The couple's son organised the party and called us about providing the food outdoors at the imposing family home. In addition to our 'pig in a bun' menu (that's pork sandwiches made after roasting the hog at your venue in person), he requested more buffet items, which we can always do. We agreed on a tasty menu of hog roast in Penrith with hot new potatoes that we toss in a herb butter, a homemade tomato, mozzarella and basil salad and a homemade pineapple coleslaw. For the vegetarian guests, we would make grilled vegetable and halloumi skewers, which always go down a treat.
We put together all of our food fresh on-site, which often surprises customers, but we believe that's how it should be. In front of you and your guests, we roast the hog, prepare the salad dishes, stuffing and sauces, cook the potatoes and vegetables and even slice the bread rolls! You can be sure of quality, fresh ingredients when you book with us; it's what gives us return custom as you can taste the quality and freshness.
So late this morning our team headed to the couple's home, armed with a huge locally-sourced pig, the marquee, serving tables and the hog roast machine ready to cook up a hog roast in Penrith. We set everything up straight away and prepared the pig so that we could start cooking as soon as possible, as we would be serving an early tea for around 70 guests. It takes around an hour to cook 10kg of hog and this was a 50kg beast, so it needed a few hours plus half an hour's rest before carving.
As the pig slowly roasted to perfection, we met the lovely pair and chatted away about hog and spit roasts, until it was time for the guests to arrive and be treated to our delicious feast of a hog roast in Penrith.