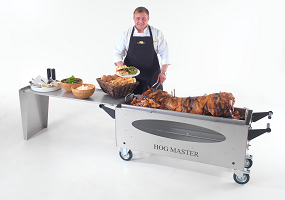 Hog Roast Event Catering has always been about good food but equally giving clients the opportunity to make their own great hog roasts.
We cater, but we also hire hog roast machines and even let you buy a hog roast machines instead. We've been hog roasting for a long time and know all that there is to know about hog roasting and spit roasters.
We try to get as much information about hog roasting and the services we provide on our website without overloading you with text but you might still have questions or now be ready to get in touch and arrange one of our many services.
A World Class Hog Roast Catering Service
If it's catering that you're after we have a world class, award winning service that's the envy of the catering industry and very often copied and imitated by our competitors. We provide hog roasting and spit roasting for our clients at great prices that are affordable for all. Throughout our existence we've had the good fortune of catering for hundreds, if not thousands of individuals and organisations.
Always Welcoming Customers New and Old
Many of our clients have families with a multitude of celebrations that arise over the years, established global businesses, famous celebrities and athletes, local pubs, restaurants and everyone in between. There is no catering event that's too big or small, too formal or informal, we really do have something for everybody and the popularity and range of clients that we have is testament to that. We have a number of famed services that we offer, our services are available across the whole of the United Kingdom and we're always eager to work with new people and build new friendships.
Take for example our pig sandwich menu, a genuine favourite across the board. We're often going to sports games, business breakfasts, charity fund raisers, pubs and cooking up some of the best pork sandwiches known to man. The sandwiches come with a winning combination of stuffing, apple sauce and crackling. We also have a second sandwich menu which is optional and you can choose from a range of meats such as chicken, lamb, beef, turkey or even kebabs, sausages and burgers. A preferred option if you're expecting guests who don't or can't eat pig.
For parties, barbecues, weddings and more extravagant events we have a range of menus for each, with every menu being more exciting and elaborate than the first. At the upper end of our menu range is a 4 course meal with canapés and desserts, pre event champagne and a drinks bar throughout the night. What most clients love about our menus is that nothing is set in stone; the menus have loads of options for you to choose from so that you can customise a menu to your own liking, or even make up your own menu from scratch with our help.
We can provide Quotes within 24 hours, often sooner
We can give you a quote on your event cost if you use our internet form and send some details to us. We aim to respond on the same day or within 24 hours of your query and will return to you several prices dependant on your menu choices, event date, people to feed etc. If you'd prefer you're more than welcome to get in touch by telephone directly for a quote.
Ready to Roast your own Tasty Hog?
Machine hire is also a service we provide and the prices for hog roast machine hire are very reasonable and available per event or for a month at a time. Just like our catering there's really no restrictions to what you can and can't cook with a machine. We can provide you with additional machine add-ons so that you can spit roast any number of meats, use the bbq grill function on the machine and even cook side dishes and vegetables in pots and pans. All machines are provided and delivered to you free of charge with a bottle of gas, and, for a little extra, our own high quality freshly sourced pigs.
Another option, which many of our clients who hire from us end up taking in the long term, is to buy outright one of our amazingly powerful spit roast machines.
Regardless of your own needs and requirements or which service you require, we always aim to be as helpful and informative as we can be, and are readily available to talk with either through Email or Telephone from 9am to 5pm, Monday through to Friday. If any of our services have sparked your interest don't hesitate to get in touch with us.