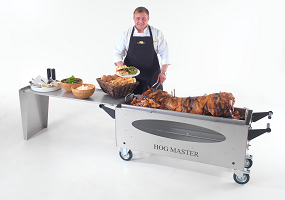 You've probably gathered from our name that we are hog roast caterers, but did you know that we also have a machine hire service so that you can hire your own machine, for much less the cost and with much more freedom than with our catering service?
Well, the good news is that we most definitely do and it's great value.
Hog Roast Machine Hire catering increases in popularity every year and we're one of the few companies that offer the service in the Isle of Wight.
With such a great culture of sport, pubs and food we're really surprised to be almost alone in offering our hog roast services to the Isle of Wight.
The cost of Hog roast catering – well, any catering for that matter – can be off putting for many people, often out of financial range or seemingly not worth the cost when you can cook yourself.
The Machine hire service is a fantastic way for you to do it yourself, starting at a very reasonable rate you can be a spit roast chef for a day, impressing, entertaining and providing great food for your friends, family or customers.
The best thing about our machine hire service is that spit roasting is really easy; you don't have to be a chef to cook up scrumptious food for people with one of our machines.
You might not have cooked food your entire life, but spit roasting is that easy that you'll take to it like a fish to water. After all, if it was in any way difficult or requiring of trained people we wouldn't be hiring out our machines to everybody and anybody.
Not only do the machines we have easily cook food that's nothing short of delicious, they're all CE registered so you can be confident that you're receiving real quality, tried and tested, high standard machines.
So good are our machines that many of the clients who hire our machines are actually established hog roast caterers themselves.
If there's a shining endorsement of our hire service it would be the fact our competition are using our own machines.
We carry 2 machines, both equal in quality and standards, with 1 larger than the other.
The smaller of the two models can cook a 35 kg or 15 chickens, where as the more powerful of our 2 machines can cook more than double that, a 90kg pig or 30 chickens.
Where our service excels is in the fact that our machines, unlike many others, aren't restricted to just cooking pig.
Because we design and manufacture our own machines we're able to provide versatility that make our models more desirable than the others.
The spit roast function of our machine are available with attachments that make cooking chicken, lamb, beef and many other whole animals and cuts of meat possible.
Better still is the interior grill that our machines have built within them, so that you can simultaneously cook your spit roasted meats while barbecuing burgers, chicken wings and the like.
As if that wasn't enough of a selling point, the grill can also be used in conjunction with steel pans, so that you can boil, steam or fry vegetables and side dishes to complete your spit roasted and barbecued meats. With these options the possibilities for great food really are endless.
You can sample our menus to take some inspiration and ideas from our catering service, but you can also go mad with creativity if you'd prefer.
You could well spit roast a joint of zebra meat and get some spaghetti and bolognaise sauce cooking in 2 pans, throw the 3 together and what do you have – Spaghetti Zebra Bolognaise! Okay, I can't say it would taste all that great but you can get a feel for just how versatile the machines are.
If you have one our hog roast machines on hand you can throw a party or barbecue like no other.
If you run your own catering business you can also increase your company popularity and turnover with a hog roast machine or two. Hog roasting is extremely low in price and one of the better ways, if not the best, to cook for a large number of people.
If you partner a hog roast machine with a pub beer garden or an open view kitchen you're likely to see a genuine increase in interest for not just the machine, but your establishment itself.