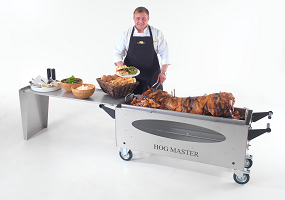 If you wanted an example of a thriving Scottish city then you need look no further than Aberdeen. Aberdeen is at the heart of Scotland's economy, playing a key role in the nation's oil industry, supporting a large population of two hundred and twenty thousand people in the granite city.
A lot of hard work should always be rewarded and hog roast is the perfect solution for diners at an Aberdeen event where there are plenty of mouths to feed. Make your next event a hog roast Aberdeen event.
There's certainly nothing new about hog roast Aberdeen dining. After all, Aberdeen is a city with medieval history, and we know that hog roast dates back to medieval times. But hog roast seemed to be forgotten for many years as an alternative to traditional catering options. Not any longer, as hog roast Aberdeen dining is making a comeback.
There are many good reasons to choose a hog roast caterer for your Aberdeen event. One of the first you should consider of course is cost. After all, it has to be an affordable option in these tough times when everyone is making savings and cutting back. Austerity measures won't be a problem with hog roast. Hog roast is superb value, if not the best value catering option available in Aberdeen. Did you know for example that a whole hog roast has enough meat on it to feed around one hundred and twenty people? That really is a substantial number and, if you are keen on inviting a small army to your event, could make it the only really affordable option.
We Cater For All Diets In Aberdeen – And You Can Even Modify Our Menus!
Okay, so that's the numbers sorted out, but what sort of event are you planning? Are you planning a back garden celebration for somebody's birthday, an anniversary, a christening or a family reunion? If so then a hog roast really could be the perfect solution for you and your Aberdeen guests. Hog roast on rolls with sauces is the ultimate in party food. It tastes amazing and easily beats burgers and hot dogs hands (or trotters) down. Children seem to love the taste of freshly cooked hog roast meat just as much as the grown ups, and the crispy crackling is always a favourite. Hog roast even provides great entertainment with a the hog roast chef acting like a party magician as they careful cook the whole pig for everyone to see. Your party will love it and the neighbours will love the aromas…in fact why not invite them? They may return the favour one day.
Maybe your event is a little more upmarket? A wedding perhaps? Everyone loves an Aberdeen wedding and everyone loves hog roast at a wedding reception. Yes, you heard that right. Hog roast is stupendously good as a wedding reception food because it carves beautifully, tastes amazing and looks a million dollars as the chef freshly cooks it for all your guests to see.
Not many foods can be at home at a party or a wedding, but there's not many catering solutions that are quite as versatile as hog roast!