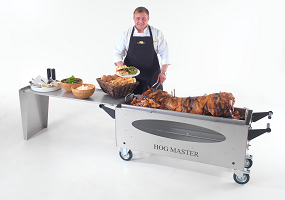 Once upon a time, home catering meant a few soggy sandwiches and sausages on sticks and professional buffet catering wasn't much better either. Maybe things have moved on a bit now to tiny portions of impossibly intricate creations which don't seem to do much to satisfy the appetite.
Well all that's changed now with the help of hog roast Addlestone! When you hire our services for your catering you get great tasting hearty food packed full of wholesome goodness that will satisfy even the most demanding appetite. When served with our own zingy apple sauce to complement its subtle flavours, we're pretty sure you'll agree that nothing hits the spot in quite the way our roast does.
The hog roast Addlestone catering team has spent many years dedicating them to the creation of the perfect roast. We also know how amazing the spectacle of a whole pig wafting its delicate aroma through the gathering can be. It's a wonderful centre piece for any event. Whenever we undertake a catering assignment we bring with us not just our fabulous meats and accompanying dishes, we bring consummate professionalism.
Our services have been designed with versatility in mind. Because we know each event is individual, we have designed a number of menu's which we feel will reflect the needs of a variety of styles and sizes of events. And because we value quality, we always source our produce locally, so you can be assured that you are being served the best quality, fresh food.
At Hog roast Addlestone, every event is important to us regardless of size. We are just as happy roasting in your back garden for your family as we are at a formal venue for guests who number in the hundreds. And every event we cater for receives the same high quality of care.
We can tailor our services to your specific event. If you are planning a very formal sit down meal, perhaps for a wedding reception, our services will reflect all your needs from elegant table dressing to uniformed serving staff.
If on the other hand you have chosen a more informal approach, perhaps for a family gathering or a sports event, our service will also be reflective of that: though of course our chefs and serving staff are always polite and professional! At the end of each event we will always discretely and efficiently clear away and remove our belongings.
Hog roasting is becoming more and more popular up and down the country. Being the foremost hog roasting company, we receive calls on a daily basis enquiring about our services. Many of the calls we receive are from people who would like to try their hand at hog roasting themselves, which is why we now offer our custom designed ovens for hire.
Hog roast hire Addlestone offers two ovens in their hire programme. The smaller of the two can bear up to 35kg's of meat or roast 15 chickens. The larger oven can comfortably accommodate 90kg's of meat or up to 35 chickens.
Our hog roasting machines are all custom designed for practicality and ease of use. It may be a small point, but it's an important one: our ovens all come with sturdy wheels so they can be easily moved from vehicle to venue and all will fit through a standard doorway. They also come equipped with an array of tools and attachments to make your cooking experience as efficient as possible.
Our ovens are all made with tough stainless steel, which gives them a pleasing sheen and also makes them easy to keep clean and maintain. Safety is also a very important issue so all of our machines are fully CE certified so when you hire from us you can do so with peace of mind.
For smaller private parties hog roast hire Addlestone would recommend the smaller of the two ovens: along with the main spit roast and rotisserie functions, both machines come with a grill shelf which can be used for cooking barbeque meats while the main spit roast or rotisserie works away. There is also plenty of room for pans on the grill shelf which can be used for making sauces or cooking vegetables as accompaniments. So you have plenty of room for cooking and plenty of scope for diversity to show off your catering skills.
So go on, why not amaze your guests by cooking them some delicious food created by you and one of our incredible hog roasting ovens!