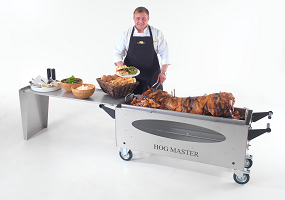 Have you been to a party or a function lately where the food left you feeling distinctly under whelmed? Party food seems to fall into two categories these days: uninspired buffets that smack of school lunches or complex finger foods that wouldn't fill a fly.
Well hog roast Altrincham can offer something completely out of the ordinary; something that will wow your guests as well as leave them feeling happily full. Our hog roast banquets are tasty, nutritious and a stunning spectacle for any party or event no matter how big or small.
At hog roast Altrincham we have spent many years perfecting our technique and have now become the hog roaster of choice for many events up and down the country. Our consummate professionalism and attention to detail have put us at the front of the hog roasting community and keeps our clients coming back. We source all local produce and ethically reared meats which means we are always passing on quality to our clients: so you can be sure when you book us for your event you will always be receiving not only the best of service, but the best of foods.
The really great thing about a hog roast is that it can fit in with any kind of party or function. A hog roast is equally at home in a pub, at a gala event, or for more formal occasions such as weddings or corporate functions. We can dress up or down, the only common element is the utterly delicious food we will prepare for you. Because we are so dedicated to what we do, we have prepared several menus to cover the needs of any number of types of events. Our menus are diverse and include a range of meats, starters and salads, and we even have vegetarian options for the less meat inclined of your guests.
If you are organising an event or considering a party and feel a little stuck for choice, then have a look at our great services. No matter what the size or scale of your event, whether it's formal or informal, we have a service to suit you. With our talented chefs and professional serving team, we'll make sure your event is one people will be talking about for weeks to come: for all the right reasons!
We will assemble our equipment and elegantly dress your tables. Our talented chefs will work where you can see all they do; our servers will serve your guests politely and efficiently and at the end of the day we will discretely clear away and remove our equipment.
Hog Roast Altrincham – Leaders In Our Field
Being professional caterers ourselves, and having used less than brilliant machines in the past, hog roast hire Altrincham decided the time had come to design our own hog roast oven. The result we know is the ultimate in hog roasting ovens with the guarantee that every roast will turn out cooked to melt in the mouth, flavoursome perfection.
Hog roast hire Altrincham have designed their ovens with ease of usability in mind: they fit through standard doorways making access to any venue possible. They also have sturdy wheels and handle's which means they can be easily transported over any ground surface from tarmac to sand.
Diversity was another important consideration to us: while our main dish of whole roasted pig accompanied by our own zesty apple sauce which so beautifully compliments the delicate flavours of the roasted pork is, we think you'll agree, an incredibly good meal, we also wanted to be able to offer a wider range of treats. For this reason our ovens come with tools and attachments for the cooking of whole pigs, lambs, beef, rotisserie chickens, turkey and kebabs.
Hog roast hire Altrincham has two ovens available for hire. The smaller of the two can bear up to 35kg's of meat and accommodate 15 rotisserie chickens; the larger will easily bear 90kg's of meat and roast up to 35 rotisserie chickens. Both machines are gas powered and come with easy to use ignition switches and a thermostatic control giving the user greater control over the cooking process.
And for your peace of mind each and every one of our hog roast ovens is fully CE certified for complete safety. With their sleek stainless steel design, our ovens are the very best in roasting technology.
So if you really want to give your guests a treat at your upcoming event, why not try one of our hog roasting machines to create a formidable, cost effective and delicious meal that you won't forget!