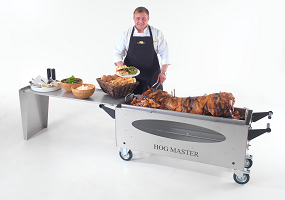 In many cultures, food preparation is considered something of an art form. In some places they even go as far as preparing the food in front of you so you can watch the whole creative process. We may have been a bit behind the times in this area, but hog roast Anglesey has changed all that!
Aside from the wonderful food, hog roasting is an art form in itself: it allows your guests to marvel at the whole roasting pig, or lamb as it slowly cooks on the rotating spit pole, it's colour changing to a deep golden brown as it nears completion; its subtle aromas filling your chosen venue, filling your guests with avid hunger as they watch.
Hog roast Anglesey has been in the catering business for many years and we really know what it takes to put on a splendid hog roast banquet. We take care to pay attention to even the smallest detail, so you know when you book hog roast Anglesey for your event every eventuality is taken care of.
We have several services to offer form highly formal functions such as wedding receptions to informal gatherings and small private parties. It's our reliability and dedication to quality of produce that has made us the hog roasters of choice up and down the country.
Our hog roasting service is equally suitable for smaller events and events whose guest's number well into the hundreds. With this in mind we have created a selection of menus which reflect the needs of various gatherings.
Because we have been catering for so many years and understand all the pitfalls we can create a first class banquet with all the trimmings for you.
We take care of everything from the elegantly dressed tables to the waste disposal at the end of the event. Our friendly and polite serving staff are always on hand to assist your guests whether it's helping them to more food of their choice or refilling glasses and clearing tables.
And throughout the whole event our talented chefs will be preparing our famously delicious tender roasts. While the meat is cooking they will get on with making not only our own yummy warm and herby stuffing, but our great apple sauce which complements the delicate taste of the meat with just the right amount of tanginess.
Superior Hog Roasts For Any Occasion with Hog Roast Anglesey
Although the whole spit roasted pig is our main dish, we want to be as versatile as possible and can also offer whole roasted lamb, cuts of beef and rotisserie style chickens and turkeys. We even have vegetarian options for the non-meat lovers!
Our menus also come with several salad options which will all be made for you on site, sourced from local produce so you can be sure to be served a crisp, fresh salad rather than one which has wilted underneath cellophane.
Over the years we have watched as hog roasting has gradually increased in popularity and we're so committed to this great way of cooking good, hearty food that's nutritious as well that we now have two sizes of hog roasting ovens available for hire.
At hog roast hire Anglesey we are determined that should you choose to be chef for the day and hire one of our top class ovens; you will have the very best experience with it.
Hog roast hire Anglesey have custom designed the hog roast ovens for durability, ease of use and flexibility.
All our ovens are fully CE certified for your peace of mind. They are all made from tough stainless steel which is easy to clean and maintain and also gives them a striking look. In addition each oven comes complete with several tools and attachments so you can prepare a wide range of foods.
The spit roast attachment will roast whole pigs or lambs, or cook a number of rotisserie style birds at any one time. The grill shelf underneath means you can cook burgers, sausages and other barbeque foods while the roast cooks way. The grill shelf can also be used with pans so you won't be short on sauces or vegetables!
These clever ovens come in two sizes: the smaller of the two can bear up to 35kg's of meat and 15 rotisserie chickens at any one time while the larger can easily accommodate 90kg's of meat and up to 35 rotisserie chickens.
The only decision you have to make now is whether or not the smaller oven will be big enough when your guests will keep coming back for more!