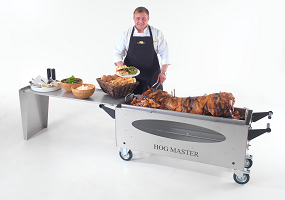 Ascot is a village near the famous racecourse it also has over 2 golf courses and is surrounded by beautiful countryside. Famous residents included John Lennon and Yoko Ono.
What makes a hog roast different firstly it cooks in its own juices which helps keep the meat juicy and tender due the cooking process. A hog roast machine cooks similar to the medieval spit roast when a pig was turned over a fire until it cooked. The machine cannot only cook hog roasts but poultry and it has room for cooking vegetables.
Traditionally a hog roast is pork but now you can use any meat you want including lamb the cooking process keeps the meat succulent and as it looks so attractive it can become a talking point. Tickets for a charity event sell quicker because it was a hog roast. Hog roast Ascot can offer you the basic hog on a roll ideal for corporate events or wedding breakfasts. We offer menus of up to 4 courses with a hog roast, or free range chicken or even a fish dish, potatoes done to your taste with vegetables or a salad of your choice.
This could be followed by one of our delicious desserts such as lemon cheesecake and if required there could be pre dinner drinks and canapés. We supply everything including the cutlery so there is nothing for you to worry about and clean up afterwards. For vegetarians we can offer a vegetarian lasagne or maybe a curry maybe you prefer your food more spicy how about an Indian or Chinese starter. For special occasions such as weddings we can also cook a cake to your requirements. Hog roast Ascot will listen to what you want and help your dream come true.
If you contact us on our website or call us we aim to reply within 24 hours with sample menus and quotes within you price range. I will let you in on a secret we also do individual menus this can be discussed over a coffee.
Quality Is Our Top Priority in Ascot
Hi my name is Sheema I decided to do my own hog roast and I chose beef the machine and meat was supplied by hog roast hire Ascot. The good thing about ordering the meat from hog roast hire Ascot is that it is locally sourced and the poultry is free range. All the machines are CE marked which means that they meet health and safety standards and are regularly checked.
There are two hog roast machines one smaller one larger I chose the smaller one as my party had 50 guests. They delivered it and demonstrated it to me it only took 5 minutes to pick it up.
The meat only needs checking every now and again leaving you plenty of time to mingle with your guests. Najma and Jane were surprised how tasty it was. Najma thought I would burn the meat as I am definitely not a cook and she booked a hog roast for her thirtieth party. I did Bombay potatoes and spinach with it and the hog roast company baked me a cake with cinnamon in. Everyone thought it was great would I do it again yes.
Besides the local pubs there are also venues such as The Royal Berkshire Hotel that caters for weddings and conferences that would be ideal to hold your event. Besides horse racing why not have a tour of Ascot with Ascot Carriages, in a horse drawn carriage they also do weddings film work and Royal Ascot. Ascot also has some smaller independent shops for those of us who enjoy shopping.
You could try eating at Bluebells for special events as its menu is mainly a la carte menu including rabbit ideal for corporate lunches or special occasions. The food ranges from British to Thai food and from £8 upwards you could try the Ascot Grill which serves European food.
For blues and jazz music try the live entertainment at Jagz that is a bar/restaurant/nightclub. If live jazz or blues does not rock your boat how about The Thatched Tavern it serves real ale and is a 400 year old thatched tavern with wooden beams or try another of Ascots friendly pubs. For a play try the Novello theatre or a walk in the Berkshire countryside.
Now we would like to come and see us soon so we can help organize your hog roast I'm off out now with another hog roast company to celebrate Stan's thirtieth.