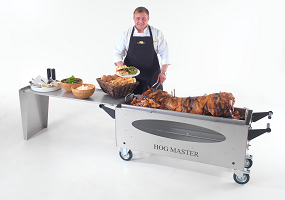 It can be really tough organising a big event and trying to decide from the multitude of foods available, which are going to best please your guests. On top of that, then finding a caterer who can do it all can be a complete nightmare.
All that can change now you know about hog roast Ashbourne!
At hog roast Ashbourne we provide our clients with nourishing, no nonsense food that is simply delicious. Our hog roasts have become famous all over the country for their melt in the mouth tenderness, subtle flavours and exquisite accompaniments. And hog roast Ashbourne are complete professionals when it comes to providing the right kind of service for your event.
We have been in the catering business for many years and have learnt all there is to know about roasting and equally importantly, we are reliable and efficient.
Our hog roasts provide a stunning centre piece for any occasion be it a large formal event or an informal gets together. Your guests will be simply awed by the whole spectacle of our talented chefs roasting a whole pig at your venue while they mingle and chat.
When you book hog roast Ashbourne to cater for your event you get a professional team you are dedicated to the success of your day. We will consult with you prior to the event so we know exactly what you expect from us and we work hard to provide it.
The really great thing about a hog roast is that it can be dressed up or down, but you will always get the same incredible food. We source all our produce locally, so you know it will be served to you as fresh as possible and all our meat is ethically reared. This is very important to us as we only want to pass along the best to our clients.
The hog roast Ashbourne team are just as at home catering for large formal events as they are catering in your back garden for a family party. We come complete with our own trained serving staff that will help your guests to food from the carvery if it's an informal buffet style event, or wait on tables politely and efficiently at a more formal event.
Hog Roast Ashbourne – Great Food For All Occasions
Because we want to offer you as much choice as possible, we have put together several menus which include whole spit roasted pigs, lambs, cuts of beef or rotisserie style chickens and turkeys. Our menus also boast a selection of salads which will be prepared for you fresh on the day and full of flavour.
The whole spit roasted pig is our signature dish and we always serve it with a warm herby stuffing and tangy apple sauce which both work so well with the delicate flavours of the roast. And of course there is always plenty of delicious crispy crackling to go around!
The whole roasted lamb comes with a fresh mint sauce, again made by our chefs on the day to ensure maximum freshness.
Hog roasting has gained such popularity recently that now in addition to our great catering services, we now are also able to offer our own custom designed ovens for hire.
Hog roast hire Ashbourne is proud to present two ovens: the smaller bearing 35k's of meat and space for 15 rotisserie chickens; the larger bearing up to 90kg's of meat and space for 35 rotisserie chickens.
Having in the past used less than satisfactory roasting ovens, hog roast hire Ashbourne have designed these ovens with ease of use and durability in mind: it is very important that the ovens are easy to transport and travel well over a number of surfaces, which is why we incorporated into the design, chunky handles and four strong wheels. Now our trusty ovens are easy to manoeuvre over tarmac, grass, gravel, well you name it!
All of this comes in a durable stainless steel which is not only pleasing to the eye but eye to clean and maintain. And because safety is an important issue to us, all of our ovens are fully CE certified.
And so that you can offer your guests as wide a choice as possible, with the various tools and attachments, our ovens can spit roast whole animals while simultaneously barbecuing a selection of meats and accommodate pans for sauces.