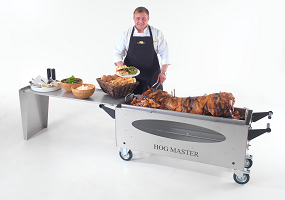 Hog Roast Aylesbury been gaining quite a reputation in the catering business for being the makers of the finest hog roasts available. Hog roasting is perhaps one of the lesser known areas of catering, but because of its fail safe method that turns out meats cooked to perfection every time, it is an area that is becoming more popular all the time. Hog roast Aylesbury take great pride not just in their fine cuts of roasted pork and lamb, but in the spectacle and pageantry that really makes a great hog roast event.
One of the great things about a hog roast is that it is equally at home in very formal settings as it is in a more relaxed atmosphere such as a village fete, a garden party or even a sports club. We can add all the trimmings to make a formal event such as a wedding turn into a truly magnificent banquet: but what always remains the same is the food which is cooked to melt in the mouth perfection every time and served with a range of our own specially made salads and sauces.
All the accompanying dishes are made on site by our talented chefs so you can be assured that they will be served to you fresh. And because we source all local produce, you know you are also receiving the very best in quality.
While we try to offer as wide a range of dishes as possible including whole roasted lamb and rotisserie chickens: our signature dish really is our whole roasted pig. It can take several hours to fully roast a pig, so throughout the process our chefs will be preparing a warm, herby stuffing which can be served in soft, floury rolls for buffet style events or plated for more formal, sit down functions.
Our chefs will also prepare a zingy apple sauce which perfectly complements the delicate flavours of the roasted meat. If after looking at our extensive set menus you prefer the lamb, our chefs will prepare a mint sauce, again on the day, so it is served to you fresh alongside your succulent lamb.
Hog Roast Aylesbury – Leaders In Our Field
Our services also include a highly trained serving staff, who will be on hand to wait on your guests, serving tables and filling glasses politely and efficiently. At the end of each event we cater for we remove all our equipment and clear away discretely so you can enjoy the company of your guests without the worry of clearing up yourself.
Because of the rising popularity of hog roasting our hog roast hire Aylesbury service is now available. In these difficult times, many people are trying to cut down on their expenses and this is where the hog roast really shines: the hog roast creates delicious, no nonsense food that is also healthy and nutritious, all for the fraction of the cost of a large scale caterer.
And because we are hog roasters of experience ourselves hog roast hire Aylesbury really knows what a hog roast oven should be, which is why we have custom designed our ovens for the users ease. We took many things into consideration in the design of our ovens, such mobility: our ovens now come with four chunky wheels and handles that allow them to be moved easily over surfaces from tarmac to grass; and very importantly, they all fit through standard doorways!
We also wanted them to be as versatile as possible so you would be able to wow your guests with your culinary skills. So for this reason we included the spit roast pole with its attached motorised rotor which can be used for roasting whole pigs or lambs and for rotisserie style chickens and turkeys. In addition the grill shelf came into life.
The grill shelf sits below the main roasting pole and is ideal for barbecue meats such as burgers, sausages and kebabs. The grill shelf and spit pole can be used simultaneously so all your meats can be sizzling away together. The grill shelf also has the capacity for several pans in which to cook the various sauces and vegetables you wish to accompany your meats.
Our ovens come in two sizes the smaller of which will easily roast up to 35kg's of meat, the larger up to 90kg's of meat. And every one of our ovens is fully CE certified so you can have peace of mind.
The only question that remains is: who to invite?