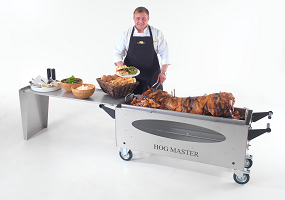 As a hog roast Bakewell caterer I enjoy my job and never become jaded with the places I visit or my job itself, I mean, who could ever get tired of smelling the finest roast pork known to man? This week I'm running a hog roast in Bakewell, this idyllic little town in Derbyshire dales is often mistaken as the hometown of the Bakewell tart.
Well, I have a real soft spot for a Bakewell tart and did a little research before catering at a corporate event there last week. The name Bakewell is derived from 'Beadeca's Well' and the local speciality is actually a Bakewell pudding and not a tart. I catered for around 300 people at this event and had three hogs roasting for the day. I also had a few of these puddings ready for desert!
My techniques that I have honed over my 20 years experience have been reported back to me as 'timeless' and 'taste sensations' I don't mean to blow my own trumpet on my work but I have spent a lot of time analysing different methods to prepare my hogs and ensuring that I have the correct marinades is always the most important part for me and my hungry customers.
Stuffing is key for me, especially at the hog roast Bakewell I always go for the classic, sage and onion mix that I prepare the day before I acquire my hogs. I do this as I like to let the mix mature a little before I stuff the hog itself.
This mixture of sage and onion is one of England's greatest foods, it works wonders with all white meats and gives a great taste which makes everyone instantly think of great Sunday dinners, that is if you were lucky enough to get a piece!
Many hog roast hire Bakewell caterers apply a great deal of sugary coatings to their hogs prior to roasting, when catering for events like the hog roast Bakewell, I like to vary it and have the classic sage and onion hog, a fantastically succulent apple cider filled hog with plenty of Bramley apple sauce, which must be home made!
Fantastic Food With Hog Roast Bakewell
My speciality has to be the coke hog, I came up with the idea for this a few weeks before my hog roast in Bakewell. I watched an old re-run of Nigella Lawson on television and watched as she poured Coca Cola all over a sumptuous piece of ham then baked it slowly for a few hours. This idea hit me like a bolt and I decided that I should transpose this over to my hog roast for Bakewell.
I experimented with a hog roast during the weeks leading up to the Bakewell roast and experimented using my friends and family in our garden. I used around 10 big bottles of genuine Coca Cola, none of this cheap supermarket nonsense, only 'the real thing' I had used a sausage stuffing inside the hog at home, just plain pork sausages from my local butcher which are some of the finest bangers I have ever tried. These keep the moisture better inside of the hog and also add a little treat for myself when the hog is fully roasted; you have never tasted anything like one of these sausages!
My Coca Cola experiment paid off beautifully, the Coca Cola glazed the hog perfectly and gave the crackling something that I had never experienced before; it had kind of caramelised the skin as well as made the fat melt ever so slightly giving anyone that encountered it, shivers down their spine and sending them into a satisfied, taste sensation.
Not to mention the meat itself which had a certain unexpected extra succulence from the sugar and caramel in the Coke Why this works so well together is beyond me but I think that this technique is definitely a keeper!
I was careful not to let the skin burn too much at the hog roast hire Bakewell as I know that it can be off putting for customers regardless of how hungry they are, the Coca Cola does tend to burn a little bit but I tend to remedy this by trimming any burnt parts of the hog off before serving.
Hog roasts are an art form in my eyes and I take the greatest care in preparing my work and ensure satisfaction and great taste every time and in every place. Bakewell hog roast was the premier of my first Coke-Hog and if you weren't there, you missed out I will be doing it again without doubt!