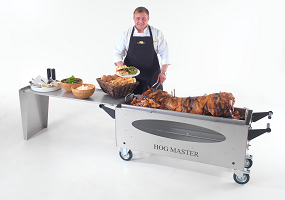 Barkham is where we call home and there's no better place to live or hog roast in. We might not have the thriving high streets and night life of other large towns and cities but what it does have it a character and a great load of history to its name.
The place gets its name from Old English, from when it was known better as 'Bercheham', which translates to "birch home", an obvious reference to the vast number of birch trees which can be found throughout the parish, Windsor Forest particularly. At other times it had also been known as 'Barcombe' and 'Berkham', but the current name seems to be staying put for now.
Another historical point is that King Edward III once used the income generated from Barkham Manor to pay for Windsor Castle to be rebuilt. In fact, the roof of Westminister Abbey was created using timber from, where else but here!
Today the parish remains a relatively pristine place, rural for the most part, with woods and farms aplenty. That bodes well for us as hog roasters. With so much farmland about it makes our life a lot easier when finding regional produce to use for our catering creations.
Because we're one of the few caterers that call Barkham home and place an emphasis on sourcing out ingredients from the surrounding areas. And we know from our experience that our clients here, the people who live here and are guests at events where we're working, they love as much as us good old fashioned, rustic, regional hog roast Barkham food.
But while we might be one of the best exponents of traditional hog roast cooking, we're not shy in moving with the times, or in fact leading the way in many cases. Our professional services are the stuff of hog roast legend, we're known for an all-encompassing service, giving our tasty food the best platform there is. We win over our clients, win over their guests, even before a hog roast roll is served!
The Traditional Slow Roasting Experts in Barkham
A prime example is hog roast hire Barkham, the number one hire service for making your own hog roast, or any other spit roast of your choosing. The machines have great aesthetics so they're a fair sight even on their lonesome, once you throw a whole hog into the mix it looks even more of an impressive sight.
But pig is just one of your options, our clients use the machines to cook everything from sirloin of roast beef to chicken kebab and will tell you how great the hog roast hire Barkham adjustable attachments are for roasting a number of different meats.
Tastethecracklin catering illuminates events with an energy that you'll only get with hog roasting. When we're on jobs whether the venue is a public house, a hotel or in someones private house or garden, we set the stage stupendously with a hog roast.
All the chefs here know just the right ingredients to excite; using aesthetically brilliant top of the line spit and tray roasting machines, and crucially teamed with the best pigs on offer, our chefs never fail to capture the imagination.
And if not by pigs and a spit roast machine then by another means, say, a whole roasted lamb, or a stunning series of whole roasted chickens and turkeys, all roasting on one machine. We can fit tens of whole roasted chickens on a machine, we've had close to 30 chickens roasting on the same spit before.
As you can imagine, the guests the Barkham party couldn't get enough of it, they loved every painful minute and hour they waited until the chicken was served in a roll with a wholesome gravy.
It can be you, your friends, business associate's and family enjoying the same delicious foods, whether you choose whole roasted chickens or a succulent suckling pig. With menus for partys, corporate events and weddings, even specialist menus for winter, you'll find that our blend of appetite whetting food and elite service is anything but ordinary. Extraordinary catering is what clients get from us, no exceptions to be had.
The worry and nerves that often accompany the lead up to an event your organising don't need to be there. When you book a hog roast caterer with an established track record of excellent hog roast Barkham performances then it's like a weight off your shoulders, you can leave the worries behind as with our event planning knowledge a successful event with cheerful guests eating mouth watering food is always certain.