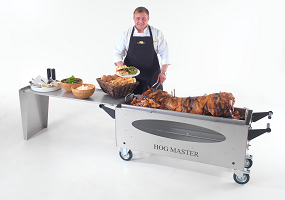 The county of Bedforshire is one of the most historic in the British Isles – tying in neatly with the ancient and gorgeous method of hog and spit roasting. When it comes to your function, you are sure to have one of the finest culinary experiences of your life.
Using only the very finest in terms of ingredients, we delight the senses thoroughly. A hub of industry, Bedfordshire sits proudly at the forefront as one of Britain's most accomplished centres when it comes to having company headquarters based there. Apart from having strong links to industry, Bedfordshire almost sits as one the most lovely and dry climate areas of the whole British Isles.
Hog Roast Bedfordshire is a great way of having some of the most lovely and sumptuous food at your chosen event. By using whole meats sourced freshly, our spit roasters can craft and create lovely, delicious food in front of your guests eyes. For a wedding party, a hog roast is the prime choice to make, giving your wedding clients a real exquisite dining experience on their big day. What a way to celebrate!
Just as the county and region is famous for the epic and class leading production of clay and other such mined materials, so too is the region fast becoming synonymous with hog and spit roasting greatness. Our event catering services are now better than they have ever been – with our comprehensive range of menus and food-based choices being an object of complete culinary beauty.
All you have to do is pick up the phone and get going – our great, impartial team of catering events staff will ensure that all of your event details are logged and ready to go. It really is the top dog
No matter what the event is and who it has been arranged for, more people are finding out for themselves about the popularity of dining outdoors and are shunning the indoor option when they are able to eat their food outside in the fresh air and in good company as well. Whether the crowd is large or small in size, there are a number of ways which this can be achieved such as barbecues and finger buffets but this social event is often organised in a hurry with no consideration made about the everlasting perception which this function has on those who attend.
One function in particular which is gaining notoriety due to its popularity is hog roast catering and it doesn't matter where in Bedfordshire you are as hog roast catering can be provided for at an incredibly reasonable price which offers excellent value for money. A hog roast catering event is just like it has been seen in cinema but, like every service, it has improved for the better with an increasing number of services now available at a fantastic price.
Hog roast catering needn't be the type of function seen on the silver screen and only experienced in areas which are thousands of miles away from where an intended hog roast catering event could take place. Even if you live in a tightly packed housing estate or in a rural area in Bedfordshire, hog roast catering can be provided for at a surprisingly cheap price.
Depending on the required budget, the higher it is allows for an increased number of services on offer. The "All Inclusive" package allows for everything to be taken care of. All aspects of hog roast catering can be supplied and this allows for my previous and upcoming customers to sit back and entertain their guests.
By choosing the "All Inclusive" package allows for the cost of hiring the hog roast oven, the hog itself, the gas used to cook the hog as well as the delivery of the hog oven and all other items such as condiments, tables and chairs. Highly qualified waiters and waitresses can be provided too which have years of experience behind them and bring an extra touch of quality so that any query put upon them is never too much for them to answer.
Condiments, such as bread rolls and a variety of salads, can be included in this package which means that not a finger needs to be lifted by yourself for the function to be a huge success.
We understand completely that not everyone's budget is as high as everyone's and they might not be able to afford every single service. Then again, some of my previous customers have wanted to try the "DIY approach" where they have the chance to serve those who attend their event. Some have even had their own gas canisters which means that this is deducted from their overall cost with many of my customers only wanting the succulent hog provided as they have the required cooking appliance for them to cook it.
The meat which is supplied can also be changed as well. We understand that not everyone sees hog as their preferred type of meat and others are available such as beef and lamb with several vegetarian options available. These various types of meat and vegetarian selections can be supplied for at one particular function so guests can feast on many types of meat rather than just having one to choose from. By informing ourselves when we are initially hired about which meat you prefer to have served allows for no disappointment.
With all the meat provided, I can vouch for the source of the meat as it is locally reared and I regularly visit the farmer to see that his farm is operating at full strength. In other busy periods of the year when my chosen farmer is low on stock, I ask a nearby farm to source my hog roast catering with succulent meat and this other farm is visited regularly throughout the year.
The names of these farmers can be provided on request. So, if you are looking for a unique way in which your function in Bedfordshire can be hosted differently than other events, then why not consider hog roast catering? Not only can it provide for a great talking point but it also allows for an amazing night to be had by all whilst tucking into and gorging on excellent food at the same time.