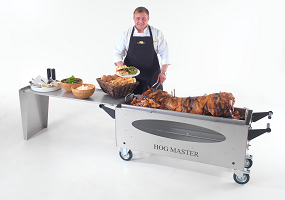 The county and region of Berkshire is the ancient home of many historic battles. Claimed to have been created in roughly AD 840, the county is one of the oldest in the British Isles.
With such a tangible and colossal link to history and all that goes with it, it is of no surprise that the notion of exquisite hog and spit roast catered events are taking a real foot-hold here in this region of plenty. A hog roast is a wonderful opportunity for people from the length and breadth of the lovely county to indulge in food which is befitting of their surroundings and their ancestors.
Although many people of the upper-classes enjoyed hog roasts in the middle-ages, today our affordable hog and spit roast solutions ensure that absolutely anybody at all can have the food that they wish from our collection of freshly roasted whole meats.
When it comes to getting the most at your Hog Roast Catering, our catering office staff can ensure that everything is in order. Tailoring bespoke menus and service options to suit your needs, this team of professionals make the organisational part of hog roasting a doddle.
So why not give them a call. A hog roast provides clients with that great taste that people can only dream of. Full of the joys of whole meats being flame-roasted to a lovely an golden conclusion, these options are bursting with the sort of tastes which can really create a great impression at any event.
Berkshire has a beautiful selection of historical castles and glorious venues – perfect locations for the ideal hog and spit roast. Hog Roast Berkshire is one of the prime ways to make the most of the great climates and wonderful venues available.
There has never been a better time than now for a fantastic hog roast in Berkshire. Being able to provide our clients with sensational food at their events, Hog Roast Event Catering has taken the classic and ancient notion of the spit roast and made it both modern and fantastic. Over the years, the tastes and food based expectations of people all over the country change and shift.
In Post-War Britain, for example, the majority of people ate to survive, due to shortages in many areas. Nowadays, people have grown accustomed to a far healthier range of ingredients and culinary possibilities. Through Globalisation, the world is a far smaller place than it has ever been. Through this, the cultures of the world have come together, allowing us to enrich ourselves with the culinary aspects of many other traditions and creeds.
By moving forward, people are once again thoroughly engaged in hog and spit roasting, which is wonderful as far as we're concerned. This is due to many reasons. first and foremost is the fact that we know that there is simply no finer way to roast or cook meat. The method of the hog roast and the spit roast pre-dates any national boundary.
Thus, when at corporate catering events, for example, nobody is alienated and everybody is thoroughly intrigued. By utilising a method of food preparation which almost pre-dates modern-man man itself, we ensure that the food we serve is the favourite of all. So, if you're Chinese, African or North American – the hog and spit roast is as much a facet of your culinary past as it is anybody else's.
The hog roast machinery and equipment we use to create and craft our delicious hog and spit roasted food allow us to fuse real splendour into peoples private functions; and it is in this arena that we really excel. Having decades of experience within the hog and spit roasting trade, we know exactly what it takes to make an event the very best that it can be for our diverse and wide range of customers and clients across the whole of the region.
By contacting us either through the phone or our very easy to use web-site contact form, our clients begin on the journey towards having the best catering experience they can hope to imagine. Our efficient and quick office staff ensure the minimum of hassle, allowing you to get on with other aspects of your event.
More and more today, people are becoming aware of the value of using top quality ingredients when it comes to the culinary pursuits which they aim to maintain. With us, we believe this has to be the case, as to use anything but the finest whole meat products on our spits would be to dishonour the very nature of the hog roast itself.
And this is something which we could never do. By sourcing our meats with extreme care, we ensure that the meats which slowly rotate to a golden-brown in front of our clients eyes is worthy of the effort which we put into our food and your events.
At a private function or party, it is truly a great sight to behold; the turning, cooking and rotating hog. It is exceptionally true that people eat with their eyes as well as their mouths, and this is yet another place where the nature of the hog and spit roast at your event really comes into its own.
The visual and sensory experience of a hog roast at your function, irrespective of indoor or outdoor location, is something which everyone takes relish in. The sight of the slowly turning, flame-licked hog is just the beginning.
The smells and aromas which percolate in and around your events will have anticipation building like nothing else. When our expert chefs cut through the thick, crisp and satisfying crackling, it heightens this also. Finally, the taste of the food is paramount and epic, to say the least.
At events all over the Berkshire area, we have acquitted ourselves with real professionalism. Growing more quickly than ever, it is obvious that people are warming to the idea of food which is simply stunning. By using great ingredients and cooking our meats in a beautiful and time honoured tradition, as well as serving the most tantalising side dishes, we allow our customers to eat restaurant smashing food at their very own events.
Cleaning up discreetly as we leave, we leave our customers to enjoy the remainder of their event. For the very finest in event catering, there is no better.