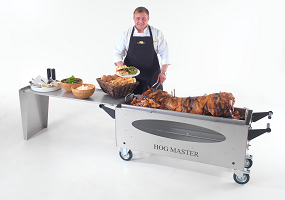 Hog Roast Bishops Stortford is the last word in hog roast catering. We have truly perfected the art; from selecting only the best farms and suppliers for all our ingredients, to custom-designing our own spit-roast machines, we ensure that we can deliver a first-class, mouth-wateringly good end product each and every time.
But, there's also so much more to us than that. Although hog roasts are indeed our speciality, we pride ourselves on going the extra mile to provide a fully comprehensive, modern and innovative catering service which is perfect for one and all.
From the word go, we make sure that we offer all our customers a diverse and flexible service so as to make their lives easier. Similarly, we believe that it is only through being given a real choice that you can pull off the event the way you have imagined it. We feel that when a caterer starts to put constraints on the customer, something has gone wrong.
That is why we strive so hard to keep our service very flexible. For instance, all our menus can be customised – that means that you can have a truly bespoke one-off menu solely for your event. This offers an unprecedented level of input for the customer, and ensures that people end up really satisfied with our service. This aspect of our service comes in handy when you are really trying to give your event a specific feel – for instance, to go along with a wedding theme, or any other themed night (maybe even Halloween!)
But similarly, it is very practical inasmuch as one can more easily cater for people with specific dietary requirements, or make more options available to, for example, vegetarians and vegans, if you know in advance you will need to. So don't get stuck with a menu that someone else decided on – it's completely up to you with Hog Roast Bishops Stortford.
Of course, we have preset menus for you to look at, and it is of course possible that one of these may take your fancy. And in cases where the customer wants a simple hog roast, then there is one menu to choose from regardless! Again, we think it is always better to have more choice than less choice.
Hog Roast Bishops Stortford – Great Food For All Occasions
Our catering service is professional and modern. Our experienced and talented chefs cook exciting and innovative modern gourmet cuisine, integrating it seamlessly with our speciality, hog roasts. However, we also roast the full gamut of meat choices other than hog roasts: spring lamb, whole turkeys and chickens, sirloin of beef and barbecue favourites. It's this blend of tradition and modernity that makes our catering unique and enjoyable, and suitable for all occasions – from weddings, to private parties (anniversaries, birthdays), club meetings, charity fundraisers, festivals, fairs and fun days, and corporate functions.
We have seen it all, and our service never fails to be appreciated. Our many testimonies are full of compliments about the quality of our food, and the professionalism and helpfulness of our staff – from the office staff to the catering and waiting staff, you will find only good will and a professional attitude.
If you are looking to try something different, our Hog Roast Hire Bishops Stortford service may be for you. It's our way of renting out our intuitive and excellent spit-roast machines to the public, at affordable rates, on a per day basis. Machines can be hired out for as long as a month.
It is perfect both for putting on your own "hog roast night", as well as for longer-term schemes. A roasting hog is an innately theatrical spectacle, and it is sure to give small businesses, particularly pubs or other entertainment venues a boost – another attraction and benefit for your own customers to have. Our machines are easy to use, so there is no need to worry about it being too complex.
Even for a beginner, a small amount of instruction (which we of course provide) is enough to send you on your way to cooking your own hog roast. Hog Roast Hire Bishops Stortford is also a practical and risk-free way of trialling out one of our machines, if you want to see if buying a machine outright may be for you.
We waive the fee of renting our machines if you do indeed go on to buy one, so it is a no lose scenario. Even if you do not buy a machine, you will be sure to enjoy the occasions on which you get to use it.
As you can see, our services are varied and flexible. The best way to find out how we can make your event special, is to get in contact with us – as soon as possible!