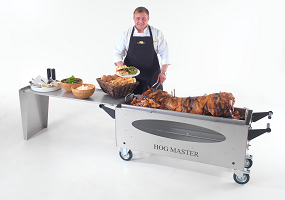 The weather has definitely taken a turn for the cooler and the days are getting noticeably shorter.
This is a busy time for hog roast Bishops Waltham; there will be all manner of parties, weddings and events taking place. And we will be there to provide the finest meats and accompaniments for our lucky clients.
It's a great time to gather together and what makes it even better is being able to warm your hands on a soft floured roll filled to the brim with our deliciously tender cuts of finest roasted pork with herby stuffing and tangy apple sauce. At hog roast Bishops Waltham we love to be part of these celebrations and providing the very best in tasty nutritious food is what we are becoming famous for!
We are absolutely committed in delivering only the very best to everyone who engages our catering services and this is why we work very closely with our suppliers to ensure that all our meats are organically farmed and free range.
Having been in the catering business for such a long time, we have learnt that the tastiest meat is the happiest meat. So not only are we supporting local farmers and agriculture we are supporting happy lives for animals and great meals for our clients. It's a winning formula all round!
It's always great for us to get out and about to the public events, but we offer so much more as well. We have a whole range of services for events from wedding receptions to corporate parties as well as smaller private parties for family and friends.
There really is no function to big or too small for us to cater. And because of our specialised ovens, accessibility is not a problem, we can take them literally anywhere, including down to the bottom of your garden!
Where we really come into our own is the formal functions we are asked to cater. We have a dedicated team whole all contribute to make the finished event a thing of beauty: from dressing tables with style and elegance, to clearing away at the end of the event, we have a team member to take care of it.
A hog roast is a spectacle in itself: just picture your venue dressed and prepared with the whole pig slowly turning on the spit roast, a deep caramel colour and releasing its hunger piquing aromas throughout the room, we know you won't find a banquet of such high quality anywhere else.
Magnificent Mains In Bishops Waltham
In some way or other, most people have been feeling the pinch a bit in these difficult times which is why we've had so many enquires about our ovens and why we now have our Hog Roast Hire Bishops Waltham service available. Hog roast Bishops Waltham catering are such a great way to feed large numbers of people with good healthy food that they are gaining in popularity all the time.
Hog roast hire Bishops Waltham hill has several sizes of ovens available depending on the number of your guests. But they all have the same great features built in to make your hog roast a great one. And on top of that we have designed and custom built the ovens ourselves because being hog roasters ourselves we know exactly what is needed to make the best meals.
All our ovens are made from durable stainless steel which makes them easy to clean and pleasing to look at; they come with a fully motorised spit roasting pole which can accommodate either large cuts of meat, or several rotisserie style chickens or turkeys at a time. There is also a grill shelf underneath which is great for making a number of barbeque meats or vegetables to accompany your roast.
The ovens are gas powered which means they can be comfortably used indoors without the worry of smoke and fire. The gas power is also thermostatically controlled which gives you greater control over the cooking process and makes it easier to keep the foods warm if need be.
All our ovens are built to the highest specifications in the UK and are fully CE certified for you safety and peace of mind. We'll even give you a user's tutorial just so you know how to get the very best from your oven!
So if you're thinking of having a winter warmer gathering with friends and family or colleagues to add some cheer to the dark nights, then give Pig Roast Hire Bishops Waltham a call and we'll get you started on your journey to the best roasts in town!