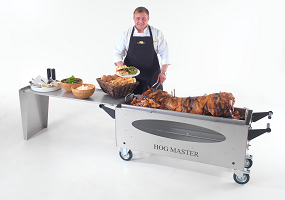 What makes Blackpool such a vibrant place? What makes Blackpool an interesting place to live? Here at hog roast Blackpool, we have first-hand experience of Blackpool's liveliness, and we have got a real sense of its character, through the catering services we offer.
What really makes the place so great are the varied joyful events that the people of Blackpool hold and take part in. From weddings, birthday parties, social gatherings of all types, as well as charity fundraisers, fairs and festivals and corporate functions, there's always something going on.
And a person getting together is what makes a collection of people into a community. Hog roast Blackpool have the perfect formula to help you stage the best event possible, and here's why.
Firstly, and most simply as hog roast hire Blackpool, we create simply amazing food. Our traditionally spit-roasted meats (from pork, beef, lamb, turkey and chicken and barbecue fare) are mouth-wateringly good. We roast the meats over a period of up to 6 hours, depending on the size of the carcass or joint, delivering a succulent taste every time, guaranteed.
Although we are a comprehensive caterer, and not exclusively a hog roast caterer, we tend to put spit-roasted meat at the centre of our menus, however ornate or simple, simply because they are a speciality of ours.
Secondly, our ethos is to put you at the centre of everything. We know that, often, days such as weddings or big parties can be one-off events that you remember forever. That's why we think it's only natural to really find out what you want, what you have in mind. That is why we offer fully customisable menus (but usually people have some sort of meat for the main course – after all, we are a hog roast caterer!).
This service is quite rare, and it allows you to make your event much more personal than most. After all, it's your day, and you are organising it. It's perfectly right that the day should reflect your choices and idea of what makes a good day – and food and drink can, as we all know, make a big difference in people's enjoyment of the whole event.
So, you can really offer your guests something they will appreciate. A lot of vegetarians in your party? Alter your menu with the help of our gifted chefs to cater for them and gain the admiration of some pretty long suffering veggies!
Similarly, do you have a particular theme for your event? Tailor the food to make it all fit that theme! It's really very simple when you can meet us in person to discuss your event. It's the best way to discuss how to realise your vision, and to help you understand exactly how we might go about it.
Related to our event service, is hog roast hire Blackpool service. A fully fledged hire service designed for those who don't quite need us to take care of everything, but rather, for those who wish to use one of our machines for their own private uses. Our custom-designed machines can be hired for a day, or as long as up to a month.
We offer very competitive prices, and offer instruction on how to use our intuitive machines. Want to have a talking point for your party? Our machines look fantastic and get people excited about their food.
Similarly, our machines are perfect for special nights at pubs, restaurants, or at festivals and fairs. Again, our machines can be hired for as long as one needs them, so you can arrange your events with ease.
We also provide instruction and, of course, we can provide whatever meats you would like to roast – all of which come from trusted sources, people we work with on a daily basis, in places we know how are run.
So you can begin to see how we can offer such a unique and flexible service. Our business model is very simple, but it allows us to offer you a much greater level of personalisation than most caterers who follow more rigid models. And indeed, it's this ability to suit their menus to their party and event that satisfies our customers above all.
But we also get a lot of testimonies from customers stating how helpful they found all the members of our staff who they interacted with, be it the office staff, the chefs or the waiting staff. That's because we are all committed to putting on fantastic events for people, by making the dining experience as memorable as possible.
If you think we could be for you, please contact us soon, so we can begin on the road that ends with a wonderful day!