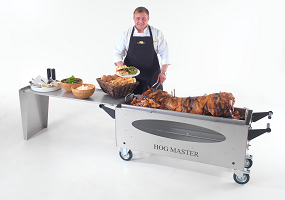 Hog Roast Bodmin is an exciting catering company that, we think, perfectly suits the contemporary catering needs of the people of Bodmin. The key to our service is our ability to be flexible, and that allows us to focus ourselves on offering you a highly personalised and bespoke service.
Our popular, wonderfully tasty hog roasts provide a perfect core around which to provide a completely comprehensive, modern and consummate dining experience for every one of our customers, no matter how small or large their events are.
Our uniqueness lies in our ability to tailor bespoke menus for each and every event we do, although our main courses usually include some sort of spit-roasted meat – well, we are a hog roast caterer, at the end of the day! But we strongly believe that it is not the place of the caterer to make demands of the customer, whether that be imposing menus on them, or limiting party sizes.
It is the caterer's role to make the host's life that much easier – to let them know that everything is taken care of. For us, that means working closely with our clients to work together in order to find out their vision for their event. We can then advise them as to the practicalities of what they would like, and how we might go about delivering this in reality.
That's how the wheels are set in motion, and our committed office staff will liaise with our suppliers and chefs to investigate how best to make your dream a reality. We have a whole network of suppliers nationally and locally, and we can go that extra mile where other caterers would not, relying on preset menus.
Of course, we offer preset menus for occasions where they are welcomed, but we do not make a customer choose from them if they are not totally happy with them. We see it as a challenge to relish, to ensure that every customer of ours comes away with a plan, and the eventual occasion itself, that they are absolutely satisfied with. And we know the best way to achieve that is to involve the customer at every stage of the way; that's why we draw up a detailed plan for all our clients of what is happening when on the appointed day.
All The Right Ingredients For A Fabulous Feast with Hog Roast Bodmin
Although our food might be thought to be traditional, – and, if anything is traditional, then it is a hog roast! – in reality, our menus are often more representative of modern gourmet tastes and contemporary cuisine. This is because we think the best way to get the most out of this form of cooking is to integrate it into a modern context, with modern dishes. There's no need to live in the past to be able to eat perfectly cooked, slow-roasted meat. Having said that, we are not averse to sticking said perfectly cooked meat into a simple white roll and served up with apple sauce and stuffing.
There isn't much that can beat that, and that's why we are viewed as a perfect caterer for informal dos. And of course, we are, but we are more than able to cater for perhaps more ornate, or more demanding affairs. That's why here at Hog Roast Bodmin, no two days are the same – a cliché, but true in our case. From the smallest of private parties, to large corporate functions and all things in between, we see it all.
And we always prove very popular at weddings – people tell us it makes a nice change from the standard fare.
However, if you're not looking for an all inclusive catering service, we offer you Hog Roast Hire Bodmin, a handy way to experience first-hand the hog roast phenomenon! Hiring one of our hog roast machines is an excellent way to liven up your private party.
At competitive prices, you can hire our machines for a day, all the way up to a month! We offer instruction, and can provide the meat, be it a hog, or another one of our listed cuts of meat. It's a great service for small businesses, especially pubs or entertainment venues to give their events an extra boost. Hog Roast Hire Bodmin also gives you a great way to trial out one of our machines, if you are interested in buying one outright.
If you are thinking of staging an event in the near or distant future, there is no time like the present to get in touch. As with all these things, the sooner the better to avoid disappointment, and to get down to work as soon as possible on making your day extra special!