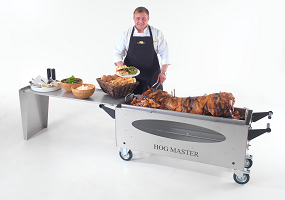 It's going to be a busy time for hog roast Bournemouth over the next few months. It's great when we finish a busy if slightly damp summer season we have all the Halloween and Christmas functions to look forward to when it gets to the end of the year.
At hog roast Bournemouth we know that our fabulous hog roasts really come into their own during the colder months. Of course a hog roast is great at any time of the year, but the festivity of a whole pig slowly roasting away really lifts the dark evenings and makes a stunning banquet for any event.
Of the many comments we receive about our famous hog roasts is what a feast they are for the eyes as well as the stomach. This is especially true when we cater for a formal sit down function at which we will have dressed the tables elegantly after having taken instruction from our clients.
It's really important to us that your day/ function goes perfectly and rigidly according to your plans. This is most probably the reason why we get so many corporate bookings and wedding receptions. There are certain events where only the highest quality of service and food is acceptable and we aim to hit the mark each and every time no matter what the size or scale of the event.
After having been in the hog roasting business for many years we at hog roast Bournemouth began to understand exactly what was required of a caterer of excellence and quickly moved to make sure that excellence was reflected at each and every one of the functions we were happily asked to cater. We did this in a number of ways: the first thing we had to look at was our menus and what we could provide.
After much thought we have created several menu options which we think fit the bill for any kind of function whether a corporate party or a small family get together. We have carefully considered the meats we cook and the side dishes which best compliment them, which is why with each of our menu options, you'll find a selection of excellent salads and side dishes to be enjoyed with your main course of whole roasted pig or whole roasted lamb.
The Best Hog Roasts In Bournemouth
We also understand that while whole roasted pig is our signature dish, not everyone wants pork, so we added whole lambs, selected cuts of beef and rotisserie chickens and turkeys to our menu. And because we know that freshness is important to everyone, all of our dishes are made by our chefs on the day while your choice of meat roasts away to grand perfection. This way you can be assured that everything you are served on the day will be of optimum freshness and tastiness!
Another important issue for us was the quality of produce, which is why over the years we have worked hard to build up good relationships with our suppliers and now use only the very best in locally sourced organic foods and meats. This works for everyone as it helps our local farmers and puts the very best of foods on your plate!
We've been going through some difficult times lately and this seems to have doubled the number of enquiry's we get about hiring a hog roasting oven, so now we have our hog roast hire Bournemouth service available. For feeding a large number of people with healthy, great tasting foods at a fraction of the coast of traditional buffet style catering you just can't beat a good hog roast hire Bournemouth caterer.
Hog roast hire Bournemouth have a number of ovens available for hire. They range from the large professional machines to the smaller, but no less efficient machines which are more suitable for smaller informal roasts.
As hog roasters ourselves we have designed and custom built our ovens to reflect the real needs of the would be hog roaster.
All our ovens come equipped with tools and accessories to make cooking a number of dishes possible. For example while a whole lamb or pig roasts on the raised fully motorised spit pole, the grill shelf beneath can be adapted for barbecue meats, vegetable, sauces and anything else you wish to accompany your main roast.