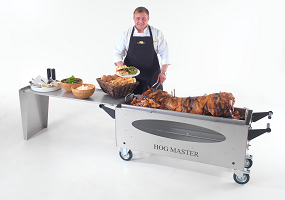 A hog roast in Bristol style suits any occasion; we cater for buffets and parties, and we cater for more lavish events such as weddings and formal events. We can provide the staff to set tables and serve food, and we can provide a fantastic range of buffet food too.
Any occasion is lightened by the promise of good food, and watching a hog cook slowly and perfectly really gets the taste buds going. Our menus are varied and we are always happy to change anything according to your needs, including providing for those with restrictive diets.
Although of course our main event – the whole roasted hog – is just for the carnivores amongst you, vegetarians or vegans can be catered for too. We offer a wide range of delicious salads, sides, meat-free mains and tempting vegetarian puddings to your liking so nobody needs to feel left out.
Any event you can think of in Bristol, and we cater to it. Whether it's something as grand as a wedding, or something simple like a post-match meal, we can cater to it.
We often have requests to provide our roasting machine for rugby or football teams, feeding chicken, pork, beef or lamb to hungry players after a hard match. We can offer full menus for formal events, and simple party foods such as roasted pork in soft, buttery rolls for parties. And a whole roasting hog is an impressive sight indeed.
With a huge city like Bristol, there is no doubt that there are plenty of places to hold your function; whether inside or outside. One great thing about hog roast hire Bristol catering is that it is not affected by the weather! Unlike barbecues, which have to be outside, or catering provided in kitchens which has to be inside, the location of a hog roast is entirely your choice.
Our machines are designed to be moved about should they need to be, with wheels on the undercarriage and a sturdy, strong steel casing. There need be no restrictions as you may find with other catering options, so that's one less thing for you to worry about! We believe that functions and events ought to be fun, and the person who should have the most fun is you! We offer only the best and are proud of it.
For those of you in Bristol who don't require full catering, we offer hire of our professional hog roast Bristol machines for the amount of time you need it – be that days, or even weeks – and provide a bottle of gas and can deliver it with a pig ready for roasting if you can't get one yourself.
We also deliver to your event in Bristol, and take it away again at a pre-arranged time. Our machines are user friendly and we will give you full instruction on how to use it, so you can have the pride of cooking delicious, perfectly roasted pork for your guests. Contact us now and make your event in Bristol extra special!
Living and working in the same place can give an individual time to reflect on what life can be and what it once was. Nowadays, I work in the exciting and never boring city of Bristol. I moved here about 8 years ago and have lived here ever since, working as a hog roast Bristol chef.
I used to live up north and work as a butcher selling fresh local produce from local farmers giving my customers only the best meat possible, but after meeting my wife, I decided on a career change as a hog roast hire Bristol chef. I was forever being commended on the quality of the meat I used to serve in my father's shop near as a butcher.
The Best Hog Roasts In Bristol
As a butcher I ensure that all of my Hogs are high grade and carry all the necessary standards for pork. This is partly due to my friend who I buy from that owns a small pig breeding business down here in Bristol. Bristol was the last place that I visited for work.
I was catering at a birthday party so I needed to set up early for the guests to all enjoy the aromas and sights of a freshly roasted hog. Bristol is a wonderful busy place to be a hog roast Bristol chef… The guests at this birthday party had over indulged ever so slightly and were all starving and glaring at me whilst the final stages of cooking were underway!
Having lived in Bristol, I knew what to expect from the overall atmosphere, it really is a beautiful part of the country here. One thing that has puzzled many visitors and residents is why the town crest features two dolphins…I don't think we could be further inland down here! Our hog roast hire Bristol catering was a big success, the birthday boy ended up coming back to me for three servings of the delectable roast pork feat that I had created perfectly as always.
I've personally never been able to manage eating more than two of my fabulous sandwiches but then again, I do pile each one that I make high enough to satisfy the hunger of any human. As the party began to swing properly many guests began to come back for more and I was left with nothing but bones to take home, this is a great sign for me as I know that the clients will be fulfilled and will have great drinking sustenance for the rest of the night; some of them really needed it!
I had the hog roasting in Bristol for around 5 hours until the skin had crackled perfectly this has got to be almost everyone's favourite part of the pig a tasty little snack to nibble on with a crunch, the meat was scorching hot and the textures overall were just mind-blowing!
I always ensure that I have pure bred hogs as they always have the best, most tender meat of all. My customers and clients really know that I have taken care of business when the hog is ready as they get the best possible meat in their sandwich.
For sides at the party, I prepared numerous salads which; work wonders with a hog roast, the contrast of clean, fresh and leafy salads works in unison with the tender, succulent meat that I have roasted gently for hours at a time, I do make sure that the meat is kept from drying out and that no burning happens to the edges of the hog itself.
I packed up all of the remaining sides and cutlery left out and put them all in my wicker bread basket. Great thing that basket, sturdy enough to carry all the side plates and everything I need to perform an exquisite hog roast, much like Bristol!
You wouldn't believe the amount of work that I get that is so close to home, we know good pork here and I know how to roast it using my state-of-art hog roast hire Bristol machine. Stainless steel, no mess and all the aesthetics of a great tasty succulent meaty meal. I was pleased with the end result of the roast as always after my events, a lot of smiling and contempt faces and another booking for the actual wedding a great result indeed, even if I do say so myself!