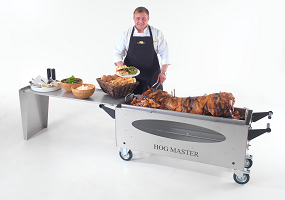 Buckinghamshire sits neatly in the seat of many counties in the British Isles. Nestled sweetly just north of London, the county of Buckinghamshire is a glorious example of an ancient county which is most certainly in touch with the culinary conditions of today. Housed within Buckinghamshire are some of the great livestock farms – which we absolutely love.
In terms of the hog roast and spit roast available; the sky is well and truly the limit; choose from fantastically reared whole pigs, ethically sourced whole spring lambs, or glorious whole chickens and turkeys – really, the list goes on and on. Our clients can specify their menus to just how they like them.
Our staff are always on hand at the end of the phone and very eager to help when it comes to getting your event booked in and well under way. No effort is too great. We can serve our delicious hog roasted food absolutely anywhere – from the Vale of Aylesbury or up on the lovely Chiltern Hills which lie within the bounds of Buckinghamshire.
We provide an exceptional avenue of choice for al lovers of hog and spit roasted food. For those who have never tried hog and spit roasted food – then it really is an experience that everyone should have – as the taste is so stunning and the event so theatrical in its nature.
Hog Roast Buckinghamshire is also great for the multitudes of London commuters who love to come out to 'Leafy Bucks' – as it really is the best way to maximise your precious downtime. Its just a phone call away.
Buckinghamshire is famous for its beautiful countryside landscape and local farm produce. The greenest and most wooded county in the United Kingdom. Buckinghamshire has a wealth of natural beauty which makes it ideal for garden parties and outside events.
A great addition to any outside event is a hog roast the sweet roasting smell filling the summer night air while the sun sets. Not just the usual disposable summer BBQ with uncooked burnt food that emanates the smell of burning charcoal. A hog roast will provide succulent evenly cooked meat and a fascinating centre piece to any outside gathering from village fetes to wedding receptions.
As Orlando Bloom is seen filling up screens across the land playing the Duke of Buckingham in the swashbuckling adventures of The Three Musketeers, the good people of Buckinghamshire themselves can relive the best parts of those swashbuckling days filling themselves up with a hearty mouthful of spit roasted pork courtesy of Hog Roast Catering.
As the musketeers swig and quaff and gallivant around seventeenth century France, we twenty-first century folk can still experience the very earthy pleasures of perfect crackling and moist and evenly cooked spit-turned meat, just like they did in the good old days. We found our machines are a popular talking point and attract a lot of people at all kinds of event.
Locally sourced food and meat is also important in Buckinghamshire, famous for its local produce. We source our meat from the top local suppliers providing fresh cuts of your preferred meat and cooked in an organic simple way to retain all the juice and flavour of the meat lost in modern ovens and roasting machines.
This is a professional machine and service we provide, ensuring meat is cooked to perfection in front of your guests. At the outside events and fairs we have catered we have found people tend to congregate around the machine as they watch the food cook, making them more hungry and satisfied with the final product.
The simple cooking experience we provide gives simple enjoyment which other cooking methods lack. The traditional pig roast offers a step back to simpler times when a group of friends or nobility would entertain guests with a big feast to show off their wealth. Today a pig roast need not cost a King's ransom to be held at your home or palace.
With our machines you can provide a luxurious elegant banquet eating experience for a much cheaper price than usual catering services. One large piece of Lamb, Pork or Beef on a large spit roast machine can feed up to one hundred and fifty people. Catering for such a large amount with usual buffet menus and catering would work out a lot more expensive than renting one of our machines, with serving staff, collection and delivery.
We can provide Buckinghamshire hog roast machine hire and staff through the whole Buckinghamshire hog roast area. If you are looking to save more money we can just provide delivery of the machine and leave the rest to you. The choice of meat, preparation, cooking, serving and cleaning the machine will save you even more money if you choose to do so. All our machines our CE approved and come with our guarantee.
An ideal option for more creative chefs and hands on organisers we have found this option more popular with people who want to cater to smaller parties and family events. Carving the meat yourself means you get to see each guest individually and cater to their needs more effectively. Although it is a more personal and intimate dining experience some customers do not simply have the time or cooking ability to cook a pig roast by themselves.
For the busy commuters and business people we also offer a full delivery, collection, cleaning, serving and staff service. For an extra cost we will take care of your hog roast party catering and the machine and ensure your guests are well fed while you can relax and enjoy the entertainment. This option is ideal for business and corporate events where our customers focus on promoting and marketing their business whilst we focus on providing a professional catering service.
It is also an option for smaller events where the organiser prefers to mingle and mix with guests than slaving over a roasting machine all day and cleaning up after. We take the stress of catering for any event from you and provide a first class eating and dining experience. So whether you want to hold a great banquet or a small family gathering there are a variety of hog roast catering options out there for you.
The image of a grand hedonistic banquet with a hog roasting in the centre need not be expensive. You can now enjoy the delicate meat provided by a roasting machine at your own home. A Hog Roast is a great talking point at dinner parties, weddings and family events. It can also act as a great attraction for larger Fairs, business and corporate events. Whatever the occasion we cater for we provide the hog roast catering package to fulfil your needs.