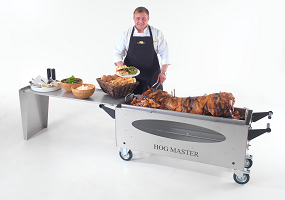 Caernarfon is a charming and sleepy town when I assisted in catering at a wedding recently. The beautiful castle and countryside was the perfect backdrop to a special day, and even though the weather was temperamental at best, the large outside event was a delight to cater for with our hog roast and full menu for cheerful guests.
Our hog roasting machines can cook some real beasts of the pig world; guests were delighted with the sight of an enormous 50 kg pig roasting perfectly on the spit to start off hog roast. Waiting staff and I arrived at the venue with plenty of time to get the hog cooking, so by the time guests were arriving it was already looking pretty good.
While guests nibbled on our buffet (which I had prepared on the site from fresh) they eyed up the roasting hog and were very inquisitive about hog roast hire Caernarfon, but I'm always happy to answer questions. The hardest part seems to be convincing children that yes, this really is a real pig cooking.
Hog roasting is becoming more and more popular in the country, and is quickly becoming a must for great outdoor entertainment; and not just because of the theatrical look it gives to your event! On warm summer days, the delicious crackling meat looks fantastic in the sun and tastes even better, and of course in the winter it really helps to warm up those cold bellies.
We have a variety of hog roast Caernarfon packages to suit you, and all of them can be changed and modified as you need. Need something adding to a menu? We can do that. Want waiting staff as well as a buffet? We can do that too! We really believe great food should be made easy, and after all the trouble you've gone to prepare your event we want you to enjoy it too.
We are very proud of the fact that our hog roasts are always successful, and those who have experienced our catering once often come back for more or recommend us to others. We've even had guests at hog roasting events approach us via our website later asking to hire one of our machines for themselves; and this hire sometimes even leads to the purchase of a machine itself!
Hog Roast Catering In Caernarfon
You'd be surprised how simple it is to use one of our machines, should you decide to buy one. If you're a little nervous, you can always hire a machine for an event and we are confident that you will fall in love with it. Of course we supply you with full instructions, and are always happy to offer up any hints of tips for creating that perfect roast. Imagine the pride of carving your own perfectly cooked pork to your guests; it's much more satisfying that spending the afternoon prodding at burning sausages on a barbecue.
Our machines are designed for ease of use for hog roast hire Caernarfon, and ease of maintenance. When it was expressed with some caution that the heavens looked like they were about to open, our hog roasting chef and I had no trouble at all pulling the roasting machine under one of the marquees while our hosts set up a cheerful bonfire nearby.
The sturdy wheels and strong handles fitting onto the machines mean, despite its sturdy weight, it is easy to pull in and out of a van, or even across grass or gravel. A little mud splattered onto the edge of the undercarriage, but cleaning the machine just needs standard soap and water and a bit of scrubbing, and you're good to roast again. Just a dab of water and the machine was sparkling again.
Our range of attachments means you're not just limited to hogs. While our machines are equipped to cook some enormous pigs, much smaller meats and even vegetables can be cooked on both the spit and roasting pan version of our machines. Smaller spits and trays are easy to attach. Cooking multiple chickens at a time not only looks great, but saves you the trouble of mucking about with space in your oven.
At hog roast Caernarfon, the whole pig was sourced locally. With around 200 guests being served our starters and puddings, the guests were happy and full even before the entire hog was carved. The chef carved off all the remaining meat and I set it out with apple sauce, stuffing and bread rolls along side our buffet-style canapés which had been requested. It looked fantastic even after we had cleared the hog roasting machine away.
We packed away just as the party was getting into full swing, another hog roast Caernarfon a resounding success!