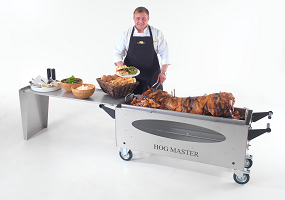 Living in a vibrant and industrious place like Charing Cross has its ups and downs. There is all the choice in the world, but everyone is vying for your attention, so how to tell what is really best for you, and not just a flash in the pan?
Here at Hog Roast Charing Cross, we know that's a dilemma that faces everyone, and that we're just another voice in the market. But we are slowly but surely building a solid reputation as a reputable and quality catering company that consistently delivers first-class services to its varied customers. What makes us different is our willingness to go the proverbial extra mile, and demand perfection of ourselves.
That ethos runs right through our company, from only using the most local ingredients and stock, to designing our own spit-roast machines, to ensure the most premier dining experience. Our hog roasts are a beautiful thing to behold (and eat, of course!)
Similarly, our staff are all absolutely professional, from our chefs, to our office staff and waiting staff. We often get as many compliments on the politeness and helpfulness of our staff as we do compliments about our food, and we don't mind that at all. Our experience has led us to create an ever more diverse set of menus, so that you, the public, have a good selection to chose from.
This means we seamlessly integrate our hog and other spit roasted meats into an innovative and gourmet set of menus – and we always leave the option open of working with the customer to create their own menu, in fact, we encourage it – after all, our menus are always just to give you an idea of what we do. We weave flexibility into every aspect of our service, and what type of menu you go for is no exception.
We Pride Ourselves On Quality And Precision in Charing Cross
We have menus for all occasions, large and small, private, public or corporate. Our menus range from the simple to the ornate, so every need is covered. Hog Roast Charing Cross is unlike a lot of catering companies in that we could perhaps be viewed as niche or specialist company, but that's only if you miss the crucial aspect of our service – and that's that we are a truly comprehensive service.
Unlike other caterers, we don't impose limits on your event – of any kind. That means you don't need a minimum size party, and conversely, you don't have to worry about a large number of people. We've catered for all sized events.
Similarly, if you want more independence, we even offer an affordable hire service for our hog roast machines, so that you can take control of your own event (don't worry! We show you how to use them). This means that you can really get the event you want – with Hog Roast Charing Cross you don't need to settle for anything less.
If you are planning an event now, or you soon will be, don't hesitate to contact us so our dedicated staff can discuss your catering needs!