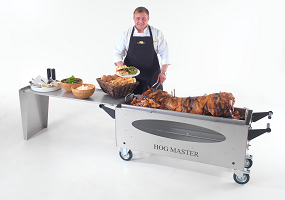 Cheshire is a great place to have one of the nations finest hog and spit roast catered events. The large and expansive amount of land utilised for agriculture is great for hog and spit roasting specialists such as us.
By having such great local produce nearby and impressively at hand, we can create and craft wonderful food and cuisine for our clients at a fraction of the cost of more conventional and un-interesting forms of event catering. Our clients have been thoroughly stunned by the food which our talented, skilled and fully qualified chefs have supplied them with at their events.
The north of England bore the brunt of the negative press which has been inflicted on the standard of British cuisine over the past few decades. Since the terrible days of the 1970's, the standard and overall level of British cuisine has improved beyond recognition – and we stand at the very forefront of this shift towards culinary brilliance.
Our varied and broad client base has enjoyed some of the finest produce that the nation has to offer. Our simple approach to how we source our food has seen us grow and grow as a bespoke catering firms. By sourcing British produce in the most fresh manner possible and slow roasting over flames, we create food and taste sensations that would make celebrity chefs gasp with surprise and wonder.
By offering our clients the very best in terms of food quality and service, we have helped to shape the food based nature of the region for the better.When you're trying to run the perfect event, you need to make it different, fun and memorable.
That starts not with any special entertainment or gimmicks but with getting the basics right- good, tasty, clean food. Naturally, catering is at the heart of any event; every type of occasion from weddings and parties to business outings has to have food.
Without good food, the whole day suffers and will leave you with grumpy guests. We can change that and go one step further. Those planning a friendly gathering to professional and corporate planners, can now benefit from the best cost effective way to make feeding their guests into part of the magic of an event instead of just the basics. So if you are looking for someone to provide a hog roast Cheshire, you are in the correct spot.
To give your day some sizzle and style, take a look at hog roast catering. The hog roast is a traditional way to cook fresh delicious food outdoors that is now enjoying a huge boost in popularity.
Not many people have seen a succulent whole pig prepared from scratch before their very eyes and cooked on a spit. Picture a delightful, tantalising centrepiece for your event; a fresh pig gently being roasted for everyone to see until it is fit for a king.
On a sunny day, everyone can gather around and watch their food being prepared, enjoying some of the atmosphere of a simpler time before fast food. When you hire our dedicated team of hog roast caterers, the cooking process is watched over carefully from start to finish with the skill that comes with long experience and specialisation in hog roasting. Whatever the location in or around Cheshire, the team will arrive early in the day to set up your fascinating alternative to the boring old burger van.
We use specialist equipment that has been adapted and improved by us personally to match up to our standards- we even sell our custom made hog roasting machines because we know they are the best. Once set up, we start the slow process of cooking- slow because a fresh raw pig deserves to be cooked to perfection, not in a hurry and never, ever pre-prepared off-site and reheated to serve. The roast transforms the pig into a sizzling, succulent piece of meat that will drive your guests wild with anticipation!
The scintillating aroma and the iconic crackling sound of a slow roast are simply unique. Nothing can come close to the excitement of seeing wholesome food prepared in this way, both interesting to watch and a great talking point. The only thing better is when the pig is finally ready and your guests get to enjoy the juicy, astonishingly tasty meat. There is no taste quite like that of a juicy hog roasted to our exact specification on a spit in the open air, with its delightfully tender meat. This is nothing like greasy fast food- a hog roast is a hearty meal that brings out the flavour and quality of the meat.
The fresh meat and any side items used like vegetables are all sourced locally from the best providers we can find. To ensure that no event is in danger of not having food, we work with excellent providers all over the country and have teams of chefs and caterers across the UK. All event planners know that things will only go smoothly if everyone knows their role. Our teams are highly professional and will arrive and depart quietly and quickly with all their necessary equipment. We will take care of leftovers and leave nothing behind on your site.
Good service is as important to us as the quality of our ingredients, the bespoke design of our machines and the art of the perfect hog roast. The style of our service can be personalised to your event and this is part of the beauty of a hog roast; it can be an intimate, communal experience, or a party atmosphere or something more refined focusing on table service. Whatever you need, we will strive to provide; our reputation as quality hog roast caterers demands no less.
Try hog roast catering for your hog roast event in Cheshire and give your guests a taste of something new that will amaze them and taste simply divine. Why simply feed guests when they can be entertained and fascinated at the same time? We will prepare a unique experience that will make your day delicious and ensure that your guests are full of great fun and great food!