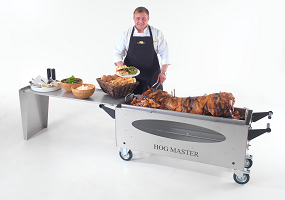 Do you have an important event coming up with catering being an issue? Do you want something different from your occasion? Are you sick of the same old thing and want something new and fresh to compliment your special day?
Then look no further because hog roast Chesterfield could be the answer to those catering problems with a traditional hog roast buffet. Sometimes catering can be a chore, taking up your time with troublesome seat planning, making sure food is complete and on time with a great taste to boot, these are the problems we can help you with, eliminate the worry and let someone else take the strain off you so you are free to enjoy your day the way you want to.
Hog roast Chesterfield is the leading hog roast service in the direct area, not only do we do the food preparation for you but we also provide a service that is professional, inviting and above all hassle free to you the consumer.
We aim to provide you with the finest quality meats and produce giving you an alternative to standard catering services. Hog roasting is an outstanding form of cookery with the meat of your choice slowly cooked to perfection with the meat so succulent it literally falls off the bone, you will agree with us that the meat is some of the finest you are likely to taste so get booking today.
We provide our first class service to all events no matter the size or location, from family BBQ's to the larger occasion including weddings, parties, charity events, fetes or fairs we provide you with the way and means to provide your guests with a banquet they won't forget in a hurry.
As we mentioned location is not an issue either as our hog roasters are the very latest in hog roast equipment, we can operate outdoors but also indoors no matter the size of your venue our hog roasters can fit in making sure your occasion goes off without a hitch.
Only Using The Finest Quality Produce In Chesterfield
You must remember planning a BBQ for loved ones and when the day does come around it rains ruining the day and atmosphere making it one day to forget instead of remembering it for what it was, let our hog roast specialists get rid of those worries for you.
Not only do we provide this superb pressure free way of providing top class cuisine but we also let you the customer hire out our specialised equipment so you can cook your very own hog roast supper the way you want it. Hog roast hire Chesterfield gives you the power to run an event with less fuss and less worry. We will turn up on the allotted day on time with one of our hog roasters, we will put it where you want it, and then all you have to do is flavour the meats and let the cooking commence.
Hog roast hire Chesterfield can provide the produce for you or if you would prefer you could supply your own meats at your own leisure, the decision is entirely up to you. With all our meats and produce locally sourced to the finest farmers in the area you will agree with us that hog roasting is the way forward for that different form of catering.
Not only do we offer you the best produce but we also offer alternatives to pork with the finest spring lambs being a popular choice amongst consumers with white meat choices also available including chicken and turkey, this leads us back to the sizing of your event, if a pig is too much (usually feeding 100 people) for your small occasion chicken or turkey could be the way to go, our hog roasters really are that adaptable from large meats to small either way the meats will be delicious and full of flavour.
Our team is very approachable and would love to help make your day whatever the occasion out of the ordinary and unforgettable, if you are thinking of hiring your own hog roaster for the day be sure to ask our team any questions you may have about hog roasting they are glad to help and answer those questions you are unsure of to make sure you feel satisfied, content and have the confidence to give hog roasting a try yourself.
So with all the bases covered why not give us a call today and so we can all enjoy that traditional hog roast supper.