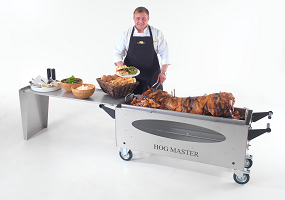 Public events are a wonderful reason for a hog roast, and Hog Roast Chipping Norton has plenty. The Chipping Norton Music Festival is over a hundred years old, one of the oldest in the country, there are craft and gift fairs, and an annual "Mammoth Car Boot Sale".
The enticingly named Wilderness Festival features masked balls at midnight and canopied banquets, the perfect excuse for a decadent pairing with succulent roasted meat eaten with the fingers.
If the number of fantastic pubs, restaurants, and tea rooms is anything to go by, the people in Chipping Norton really care about their food. This is often the case in market towns, and the history for them here goes back a long way – the name literally means "market north town", from the Anglo Saxon cēping (market), although it's no longer clear what the town was north of.
These days, the market runs of the third Saturday of the month, and sells a variety of fresh, seasonable produce, from preserves and honey, to local beef and pork.
This is something we really get behind at Hog Roast Chipping Norton, as we aim for a localised service in which every customer is an individual.
At Hog Roast Chipping Norton we love to cater for the big events, but little ones suit us just as well. Our services range from 200 strangers sharing a hog roast to the intimacy of a family gathering. For an informal party we can provide paper plates, or a sit down dinner for more formal occasions like weddings and corporate events.
Hog Roast Chipping Norton Catering For Any Type Of Party
Our menu selection ranges from simple "hog roast sandwiches" – pork carved warm from the roast, in a roll with sage and onion stuffing, apple sauce, and crackling – to full formal meals. You can change the meat to a choice of lamb, beef, chicken, or turkey, instead of a hog roast.
We can even provide sausages and burgers for those who fancy a more barbecue affair. And you might not expect it, but we can also provide meat-free alternatives on request.
It's a shame Chipping Norton no longer has a brewing industry, which was closed in 1931. Our hog roasts go down well in pubs, and the addition of local beer is always a treat. That said, any beer goes well with a roast, and so does cider – they don't pair pork and apple sauce for nothing!
Hog roasts are a popular post match treat, so it's always amazing to set up our gazebo in the beer garden, just in case the weather lets us down, and get the roast going. We like to think the smell of slowly cooking meat, drifting out in the air, draws as many people to the pub as the beer.
It's always great to hear our customers exclaiming over the spectacle of our chef carving the whole pig, and the tenderness of the meat. We really love cooking in Chipping Norton, and they really seem to love having us cook for them.