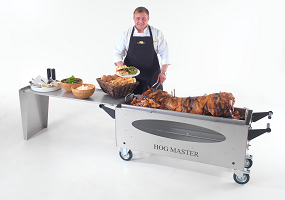 Do you have an event coming up you need catering for but you don't have a massive budget? Perhaps a birthday you want to make memorable, special, maybe an anniversary celebration or even an event on a bigger scale such as a works function or fete?
Whichever one applies to you and your event style catering can be a problem and worry you could sometimes do without, hog roast Clacton on Sea is the number one hog roasting company in the area and we are here to offer you a substitute type of catering without all the bother and drama of seating arrangements, menus, waiting staff and such the like.
We want to make sure everyone at your special event is satisfied with minimal fuss and minimal effort combined, that really is our aim and our profession combined.
Whatever the size of your event we will give you the knowledge and the experience to guarantee a problem free day that you can enjoy with family and friends so you can remember the day as it should be. We can provide you with this first class service it really is the way to go with modern catering mixed with a taste of old provided by our up to date roasting equipment.
Spit roasting is an ancient form of cookery and dates back hundreds of years, at least to Medieval times, it's a tried and tested method and needs to be tried by you. If you haven't tried it yet we assure you it really is the way to cook fresh produce giving you the finest tasting meats possible with the pork slow cooked to perfection on our range of specialised hog roasters.
We promise you a service second to none, our fully capable, trained and expert chefs do all the hard work and cooking for you leaving you to entertain your guests, the way it should be.
Making your day the best it can be is our mission, we set up the hog roasting equipment for you while you relax, not only that but we also slow cook the chosen meat to precision and perfection giving it a soft and moist texture, amazing if we do say so ourselves. We cook to a style of your liking whether that be untouched, salted, honey roasted, or another seasoning of your choice.
Hog Roast Clacton on Sea – The Catering Solution
Hog roasting is the way forward for hassle free, uncomplicated great tasting food. We offer different sizes in our produce so we can give you a stunning feast for even the customer with the lowest budget, so even if your wallet isn't massive your stomachs could be with a personal hog roast suited to your needs.
Not only do we give this unbelievable service at reasonably priced rates but we also offer you the chance to hire your very own hog roast machine to cook the meat how you want it. Hiring your own hog roast can give you the freedom you deserve on that special day without all the extra fuss and worry of cooking times and such.
We can provide you with the hog roast equipment for you and the knowledge and you do the cooking yourself. You can even provide the meats yourself if that's what you want, or we can provide the means for you and leave you to it.
We assure you that our hog roasting tech is the latest available and provides you with a way and means to provide your guests with stunning food in a simple and traditional fashion.
Pig is not the only way to go, we can also offer you the finest cuts of beef if that is your favourite, from juicy ribs to succulent cuts of rump, for the smaller occasion we provide the finest minted lamb a firm favourite with our regular clientele. And with a white meats alternatives as well including chicken or turkey you really can cater for everyone, not only that but if you like the more gamey taste such as pheasant or duck they too can be cooked on our spit roasters so the only limit is your own imagination.
We also provide vegetarian options with lush salads and potato dishes to suit those trickier guests. So how come you are still reading this get on that phone now and provide your event with an original style and out of the ordinary form of catering and make it one to remember for some time to come.