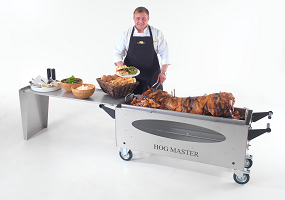 The glorious northern regions of Cleveland have a long standing history with great food. Admittedly, over the past few decades, the food of the area has been typically associated with subsistence living – often lacking in flavour and imagination.
The locals have really taken to the exceptional hog and spit roast catered food which we lovingly create on our spits; the meats roasting and turning slowly over live, dancing flames. Part of the reason why our catering services are so popular in and around the Cleveland, is the fact that we can offer such great and wonderful food for such a low price.
By buying direct from suppliers we keep our prices extremely low. In addition to this, our butchery costs are incredibly low as we roast our meats whole on our spits.
This means that our clients can be served with simply stunning food for prices which are so unbelievably low, that you may need to sit down to hear them!
By using only the very freshest and most ethically sourced whole meats on our classic spit roast machines, our customers take advantage of eating some of the finest produce available today. Combined with our lovely, taste-inspiring meats, we also lovingly craft and create gorgeous salads and accompanying dishes.
Our chefs have been thrilled by the manner in which people have responded to the foods on offer! Packed full of flavour and sight to behold, our famous hog roasts are the best way to enjoy epic food – anytime, anywhere!
With your special day fast approaching and you having to put a lot of thought into how you are going to feed all those hungry guests who have used up all their energy giving out there congratulations to the bride and groom? Here at hog roast Cleveland we can offer you a wide variety of different menus to suit your every need.
We will cater for any desired number of guest whether it be a large or small wedding. All our catering will be served as a buffet style service giving your guests the freedom of choice of all our delicious freshly prepared food.
While the wedding bells are ringing out through the beautiful landscapes of Cleveland your chef will have been on site already 6 hours prior to the service to get a fully built on-site kitchen prepared ready to freshly prep your desired menu. All our produce is locally sourced with in Cleveland.
The hog roast machine we use is fully mobile which gives us great accessibility with all venues. Our machines do not need the use of electricity so, we're not restricted by location of any power supplies.
This is another great reason to book a hog roast because it's very simple to use and doesn't need electricity on site to cook a perfectly prepared pig.
With all the stress of your big day the only thing you will have to worry about is not spilling apple sauce down your wedding dress, all the hard work will be taken care of by our catering staff.
While the pig is slowly bubbling away in the hog roast hire Cleveland machine we will working away preparing your menu options whether you've chosen salads or roast vegetables and your preferred potato option.
With all your guests filtering into the wedding reception drawn in by the smell of the freshly cooked pig all the serving tables will have been dressed and set ready for all the on-site freshly prepared food to be served.
The pig by now will be looking a beautiful golden brown colour with the perfect crackling ready to be torn off and served to all your by now hungry guests.
There will be staff walking round with the different choice of canapés that you chose from the menu selected. This will give your guests a taste of the excellent food they are about to receive when it comes to the serve of the main course.
Once the machine is wheeled into the serving area the pig will be drained of any excess juices to save any spillages in your venue, now the pig has been raised into the serving position your guests will now have the opportunity to see a fully cooked locally reared Cleveland pig ready to be served.
All the food will now be in place keeping piping hot in chafing dishes and all the fresh salads if chosen will now be uncovered and ready to serve, plates and cutlery will be at the start of the serving table's right down to the freshly carved hog roasted pig at the other.
While the food will be going down a treat there will be staff topping up all the salads, vegetables and potatoes, making sure that there is more than enough food for everyone. We always supply more food than people we are catering for so if there is anyone how is still hungry after their first course can always come back up for seconds.
Our staff then will come round collecting plate's knives and folks discreetly from all your guests once they have finished the main course. We dispose of all rubbish so there aren't any worries of waste after your wedding reception.
All the equipment once finished serving will be quietly taken out of the venue and re-loaded into the van ready to leave full to the brim and fully satisfied with the service we have provided for your wedding catering.
So what are you waiting for? Give us a call today and we'll send out further information along with any requested quotations for your wedding, party or events catering requirements. We look forward to your call.