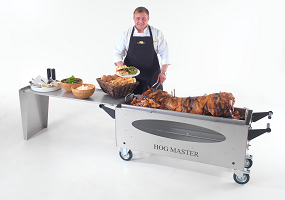 The beautiful and highly historic region of Cornwall can be said to be a jewel in the crown of the British Isles.
Full of the glories of Britain, the area of Cornwall has played a magnificent and crucial part of our Islands history. Never under Roman rule and often seen (by those who live there) as a country in its own right, the Cornwall region is an inspiring a place as it is beautiful.
In terms of hog and spit roast catered events, the area lends itself exceptionally well to the flame roasting process. Used and loved by many, the hog and spit roast has enjoyed unprecedented success in the Cornwall area.
This is mainly to do with the fact that the weather and climatic topography lend themselves so very well to the notion of the summer garden party.
Picture it; sitting outside, the sea lapping at your feet and the sun high in the sky – next, someone hands you a hog roasted pig sandwich. Are you happy? Yes!
As well as this, the area is a popular holiday destination. Through the many peoples using the region as an area of leisure, people go there for enjoyment – and what is more enjoyable than a hog roast?
Not much. With so many places to visit, tourists are spoilt for choice when it comes to searching for a suitable and substantiated position from which to have their hog and spit roast catered event.
The epic coastlines, gorgeous weather, friendly people and awesome produce all culminate to form a place in Britain where having a hog roast is the best and most fun thing to do at any time.
Imagine the sand between your toes, the stars in the sky and all your friends and family gathered around a fire with a hog roast on a summer's night.
Why not make the most of the Cornwall beaches this summer and let hog roast event catering give you, your friends and your family an occasion to remember for years to come.
Imagine a wedding party on the Cornwall beaches on a hot British summer's day, sat around a warm pig roast at night when the sea breeze comes in.
The atmosphere, food and style is everything on your big day and so we aim to ensure no stone is left unturned when it comes to our foods perfection.
Don't let the growing expectations of what the wedding 'should be' fall heavily on your shoulders, let it fall on the pigs. Here we want to make your special day as stress free as possible and so we offer a classy and stress free way to feed all your guests supplied with an experienced chef, warm and friendly catering staff and of course the hog roast to ensure your big day is nothing but relaxed and enjoyable for you.
Our meat is of the finest quality and is accompanied with a choice of salads, potatoes, bread rolls and desserts meaning you have absolutely nothing to worry about where the food is concerned. Our machinery is also of the highest standard, meaning we are able to also cook a variety if meats such as chicken, lamb, beef etc.
if that of the spit roast is not quite to particular guests fancy. There is also no rush to get all the guests sat down and ready before the food is over cooked and ruined as with our slow roasting hog the meat is ready when you are.
We aim to provide a relaxed yet simply delicious and mouth watering meal that will leave all your guests with memories that will last a life time. The spit roast pig will ensure a social atmosphere amongst all your guests; reigniting those lost family ties only brought together at big family events or starting new friendships between the two family's now brought together.