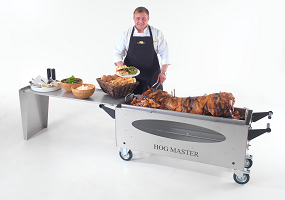 Where is the centre of your universe? You know, where do you find you spend most of your time day to day? For many people, this could be the train or tube station. For that reason, Crewe may well be the centre of the universe for many people.
Crewe is synonymous with railways, being home to one of the UK's largest railway junctions making it a familiar location for many thousands of UK train travellers every day. But could Crewe be the centre of a new catering journey, too? The hog roast Crewe journey?
In all fairness, the hog roast journey is not just Crewe's own work. Hog roast has been slipping back in to the catering timetables for a few years now. This medieval feast is now gaining great popularity as the food of choice at events in Crewe and all over the UK.
So what is that has seen this forgotten feast enjoy a new wave of popularity? Hog roast Crewe or not, hog roast really is a hot (and tasty) topic.
If you think about it, hog roast has never been away. Hog roasts have continued to be enjoyed by many people but it has only relatively recently enjoyed a surge in the event market. It's no surprise really as hog roast ticks a lot of boxes for anyone looking for a great tasting, great value event catering solution.
Hog roast can feed a small army, well a fair number of Crewe guests anyway – around one hundred people can enjoy hog roast at your event, making it a great value meal if you are on a budget (and let's face it, who isn't these days). If your event is something quite informal then hog roast on rolls with sauces should be more than enough to keep the Crewe crowds happy. Hot hog roast rolls are quite delicious.
The Best Hog Roasts In Crewe
Every party needs a bit of entertainment and hog roast provides this somewhat by default. The hog roast chef cooks the whole pig before your very eyes on the very impressive looking hog roast machine.
Seeing your meal cooked is quite special and really helps you and your Crewe guests build up an appetite for the meal. It also proves that you want the very best for your event and have gone out of your way to provide a freshly cooked meal for everyone. Incidentally, every pig used for a hog roast is a quality pig from a respected source. The respect continues with the lengthy cooking process which takes around six hours.
Six hours cooking should make for a great tasting meat, and you will certainly not be disappointed with the taste of hog roast. All that slow roasting produces some of the most incredible, succulent flavours you will ever taste in Crewe or anywhere else for that matter. Not bad for a meal that stems from medieval times.
If you are looking to organise an event in Crewe and need a brilliant catering solution that won't bust your budget, choosing a hog roast may just be the perfect solution.