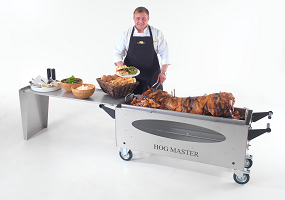 The culturally stunning and often misunderstood county of Cumbria is one of Britain's finest regions in terms of rearing produce.
For hog and spit roast event caterers such as ourselves, we love this place impeccably. A non-metropolitan county, the region of Cumbria contains all the mountains above 900 metres in England.
The produce which is ascertained in these parts of the British Isles is truly second to none. All you have to do is look at our spits when we place the whole carcasses on raw to see the abject quality that this area produces.
We love being able to serve such wonderful hog and spit roasted food to our clients in Cumbria – as the materials at our disposal are stunning in their character, flavour and marvellous taste qualities.
By using such produce in their whole form, ie whole animal carcasses – we can achieve such stunning quality within our food at incredibly low, low prices. Great for people who want to experience food which no restaurant can touch, without having to go anywhere nearly as high as restaurant charges!
By simply tasting our food you can see why we are at the forefront of the nations hog roast culinary revolution. However, our food is so much more than taste. By seeing us spit the animals and cook on dancing flames, our clients get involved with the mystical theatre of the whole occasion – which is something that is great, great fun to see.
Along with this, the smell of a whole roasting hog is hard to ignore – simply gorgeous. Alongside our Party Menus are our celebrated Wedding Menu options. By using and drawing on our huge amount of expertise and skills in terms of our chefs, we have been able to offer countless couples in the Cumbria area, a sublime hog roast catering experience.
As with many aspects of the nature of cuisine across the British Isles, it is becoming apparent that there is a rapidly growing section of society who demand and expect great quality food.
This is great for us; as this is all we offer. At your wedding, our sumptuous food is combined with our own service staff, who are not only skilled and enthusiastic about what we do, but are always ready with a smile.
By having your wedding catering with us, not only do you and your guests get to consume restaurant-beating food, but you also benefit from subtle theatre and excellent service. On the day which has to be just right, you need look nowhere else.
Our Corporate Catering Menus form the third aspect of our hog and spit roast catering services. Important when it comes to getting the deal signed, our corporate events have been a real sensation.
Allowing everyone, from any nationality, to feel included (due to the spit roast being older than any nation), our food and great service ensures that the event definitely has something worth eating, as well as something to drive the discussion.
Hog roasts are a great way to add that extra something to your event whatever the location, be it by a beach at the peak of summer, at your own home, inside or out wherever your fancies may take you.
Just imagine the beauty and glamour it will add to your special day. Hog roasts have proven to be a strong asset to any Christmas party as they possess the qualities of sitting by the fire on a cold winter's day, warming your guests with a charming performance, or perhaps on your wedding day, creating an elegant centre piece that is definitely sure to awe your guests.
Not only are they spectacular to watch, they tastefully engage with all the senses offering up a mouth watering smell and a taste that is sure to appease even the pickiest of eaters and if that doesn't entice you, spit roasting is a much healthier option than the traditional menus you may take into consideration.
They do not use much grease or oil reducing the fat content in the food, yet the spit roast maintains its highly desirable taste which is a trait that can't be applied to many other foods.