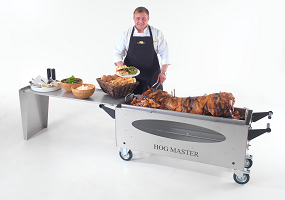 In medieval times, Dartford was a major stopping point for pilgrims making their way to Canterbury.
They must have stayed at the inns to eat and possibly sleep and had the Hog Roast Dartford team been around then, they could have fed everyone with their trademark wholesome spit roasted pork. In modern Dartford the hog roasters are regularly asked to come along to out door events with their specialised hog roast oven to feed the hungry throngs.
However, they are equally at home catering for formal and indoor events, such as last weekend when, after months of planning we were lucky enough to cater for a wedding reception.
Whenever the Hog Roast Dartford team are asked to cater for such an important event as a wedding, we understand that you want everything to be perfect for this special day. This is why we pay attention to every detail, and will work closely with you listening to what you say and how you envision your wedding reception so that we get it absolutely right.
On the day we arrived early to assemble the marquee and get our ovens going and the meat roasting: it can take up to six hours to roast a whole pig, so it's important to get started in plenty of time.
While our chefs were creating their wonderful starters and accompaniments, the rest of the team got busy dressing tables with beautiful floral arrangements and all the polished cutlery and glass ware.
Fresh, Fabulous Food With Hog Roast Dartford
The serving staff were on hand to greet the guests with a glass of champagne and show them to their seats. When the time came to serve the meal our serving staff filled the guest's plates politely and efficiently making sure everyone had what they wanted.
At the end of they day the Hog Roast Dartford team were able to disassemble the marquee and pack everything away leaving the venue clean and tidy and the happy couple to enjoy the remainder of their day.
At Hog Roast Dartford, we are committed to the success of your event, which is why we offer a diverse and flexible service. We have a range of menus to suit any occasion but we are also happy to modify them to best fit your plans.
And with our custom made hog roast ovens we can conjure up a selection of delicious meats and vegetables for your event including whole lamb, rotisserie chicken and even kebabs.
But perhaps you just want to be a chef yourself for the day, in which case we can hire one of our machines for you. The Hog Roast Dartford team will fully explain the workings of the machine and the many attachments so you get the very best from it and have as successful a roast as we do!
If you have an event coming up this year, give the Hog Roast Dartford team a call and we'll show you just how our flexible, first class service can be the gem of your event!