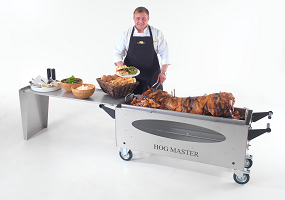 Denbigh is a charming market town, owing much of its growth to its glove-making industry and with quite a colourful history.
Having been destroyed and built again numerous times during the middle ages, it has grown gradually into the developing town that it is today, and the rural scenery is perfect for a hog roast event. No matter where you go in the country, excellent catering is sought after and we are proud to deliver it.
No doubt back in 1294 when Edward I and the local rebels were fighting over the castle, hog roasting was just as popular here as it was in the rest of the country.
Whole hogs were often cooked for the purpose of feeding large groups of people, at a banquet, feast or on holidays or public celebrations. Cooking the entire animal at once was much easier than cooking lots of separate pieces, and only required a small number of people to prepare the entire meal. The versatility of this method of cooking allows more or less any meat to be cooked; smaller spits could cook chickens or pigeons easily enough, and heavier larger spits were made to accommodate the hulking body of hogs or even buffalo.
Of course, such a sight would often become a main focus of any said event. It's not difficult to imagine a huge crowd gathered around a whole roasting buffalo, plates at the ready, watching the meat cook as they eagerly watch.
Today we believe hog roasting is quickly becoming one of the more preferred methods of catering, and our huge amount of past satisfied customers is testament to that. We have catered for smaller events such as post-match snacks, little parties at customer's houses and such; but we also cater for huge events, sometimes with more than 300 people.
For important events such as weddings, we are passionate about making your big day even better with excellent catering, food and waiting staff. All our staff are specially trained, friendly and great at what they do, from carving the hog roast to serving your guests at their tables. We offer a great selection of menus and hog roast Denbigh options for your event, large or small.
Hog Roast Denbigh – Leaders In Our Field
One of our more popular options is our hog in a roll option. Delicious slices of roasted meat inside our floury bread rolls really is simplicity at its best, perfect for smaller events and large events alike.
We can even provide you with a machine for your own catering at car boot sales or fairs, where you will find perfectly roasted pork in bread rolls, perhaps with a dollop of apple sauce, will garner you a great deal of custom!
With hog roast hire Denbigh, you aren't just limited to pork! Our hog roasting machines can cook pretty much anything you can think of. Up to 35 chickens can be roasted perfectly with our add-ons for our machines, and you can even easily change it into a barbecue-style roaster, cooking burgers and sausages and the like.
Our machines really are versatile and give you such a wide range of cooking options, so they are perfect for hiring for multiple events. And since the machines are powered by gas, there's no need to be pulling an extension cable around after yourself, and no need to stay inside if it's a sunny day.
With sturdy wheels fitted on the stainless steel undercarriage and handles fitted on either side, our hog roasting machines can be moved inside and outside; anywhere that is open and ventilated is just fine for your hog roast Denbigh.
We are confident in making catering for larger events for hog roast Denbigh easy with our trained staff and hog roasting chefs at hand. Hire our waiters, and we will serve starters, mains and desserts to each table and of course we cook for those with dietary restrictions too, all can be easily arranged with us before-hand.
Our menus are varied and exciting, but if you want something changing all you need to do is ask and we can do it for you. All our staff are trained to at least intermediate Food Hygiene Standards and fully aware of risk assessment, which we will conduct at every event.
Hog roast hire Denbigh is sure to make your event memorable. A full roasting hog at the centrepiece of your event is such a great sight, and the taste is one to remember. Just give us a call and we will sort out the rest!