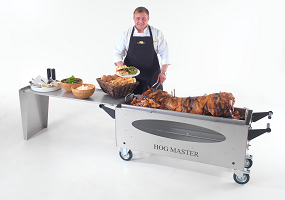 It's not often that I tell people things with any degree of certainty but when it comes to my job as a hog roast Dereham then I my certainty is without doubt.
This is the greatest job ever and the day I made the decision to start my career serving quality food to the good people of Norfolk was the best day ever. I would like to share with you a little information about my life as a hog roast caterer and explain why this is the perfect catering solution for you and whatever event you have in mind.
I'll get the basics out straight away. If you do not like fresh, tasty, wholesome food that has taken ages to prepare using quality ingredients and that has been lovingly tended to then I think you can probably stop reading now because it seems quite obvious that this is not going to be the solution to your event needs.
My life revolves around, one of delivering superb quality food on a no compromise basis and that really means just that. I make absolutely no compromises on the quality of my food and that is why my hog roasts are adored by everyone who eats it. And that's a lot of people!
I say a lot of people, not that this is the busiest place in Norfolk by any stretch of the imagination. I think there are about sixteen or seventeen thousand people living here which is not huge.
But I must admit that is seems to me to be much more than that as I always seem to be catering for some event or other in the town. Good job too because this is a really great place, as is much of Norfolk, but I love Dereham. I nearly love it as much as my clients love my hog roast!
My services have really taken off in the past four or so years, that I have been doing this, in fact it has surprised me how well it has gone. I remember one elderly relative speaking to me when I explained that I wanted to get into hog roasting.
They said 'you'll have to be good because the people round here know their food, you know', and she was right. The people of Norfolk certainly understand their meats and quality ingredients, but I never had a problem with that because I only use top quality ingredients in everything I cook.
Local Hog Roast Catering in Dereham
In the beginning of my hog roast journey, I was always a little worried about just how many people would want to book me and for what sort of events.
I remember the first hog roast I went to was at a pub during the World Cup. It was packed and England were getting knocked out on penalties for a change, I think. I thought that it would be pub events I did mostly but, whilst I do cater at pubs, I do many other sorts of events and that is what makes my job so brilliant.
One of the best sorts of events that I cater for are corporate events. These are something else and very occasionally they are really quite special. Sometimes they get guest speakers in who are well known but they are always good regardless.
My hog roast always goes down a treat at these events. I think this is partly down to the fact that so many corporate events have been let down with bad catering in the past. Well, that's certainly not an issue with y hog roast hire Dereham catering. In fact I get complemented on a regular basis on how brilliant hog roast is, which is nice.
It's not just corporate events that I love. I really enjoy family events such as birthday celebrations and anniversaries. They are always lovely friendly events that really are fun and these are just tailor made for hog roast.
The children love seeing the hog roast machine with the big pig on it and the older folks love the traditional taste. I get to cater at many weddings too, which is wonderful as it gives me a chance to do my gourmet bit and carve the hog roast very smartly like a top chef.
I must admit that hog roast makes a pretty fantastic looking plate of food and everyone always says 'We must have hog roast again sometime'. Well, it seems that they do exactly that as the people of Dereham are certainly keeping this caterer very busy indeed!