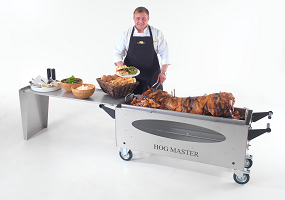 The beautiful and most historic county of Dorset is fast becoming one of the finest places in the British Isles to have a hog or spit roast catered event.
Just over half of the county of Dorset is classified as a Area of Outstanding National Beauty – making it one of the true great destinations to visit in Britain Although a lot of Britain's climate may be wet, the average rainfall in Dorset is exceptionally low.
Along with this, the sunshine hours generated, show that the county is one of the sunniest places in the whole of the British Isles. In terms of having a bespoke hog and spit roast catered event – you simply could not ask for more.
The whole meats which we roast on our spits has real character – embodying the sunshine and spirit of the local agricultural practices. The vegetable and salad options which we lovingly serve as accompanying dishes is also sourced locally – ensuring that the great taste of Dorset is encapsulated within the menus of and services which our clients receive.
The county of Dorset truly has a very rich historical tapestry indeed. Famous for the outset of the 'Glorious Revolution,' the area is synonymous with British heritage. In turn, the brilliant old breeds of pigs are lovely when roasted on our spits – giving sumptuous flavours.
Dorset's still got plenty of great places, both along its fantastic coastline and a little further north. In towns and villages there is nothing as great as a hog roast, we have taken great delight in providing the people of this great, underrated county with the highest-quality hog roast catering.
Lying on the South Coast, Dorset is a great place to live, work and visit. We have miles of gorgeous, uninterrupted coastline with the English Channel in full view. On top of that, we also boast some beautiful market towns such as Poundbury.
Dorset boasts a large amount of prime agricultural land, which means that we're able to source the best hog roast Dorset meat imaginable, without having to go a mile in order to get it.
It also means that we get some of the best fresh fruit and vegetables available to prepare our starters and desserts with, so you know that if you decide to get us to cater for your party, wedding or other function, the food you'll be eating is locally sourced, and does a lot to help local business.
We've been in the hog roast catering business, and our work takes us to all four corners of Dorset. However, we first got into it on a trip abroad. We gained a lot of knowledge from our trip to the 'Veld'.
We learnt about how to cook a hog roast, about marinating the pig and about how to make it look as good as it tastes. From that trip, we decided to give it a go ourselves, and from that moment onwards, we've been in the hog roast catering business ever since.
Hog roast catering is growing in popularity throughout the country, and it's easy to see why. There are many benefits to having a hog roast as the delicious centrepiece of your party feast.
It's all in one unit, so there's no messing around with having to put several different cuts of pork in the oven. Although it takes around six hours to cook completely, as it's rotating while cooking, it will be done evenly and thoroughly once ready to serve.
A hog roast is also easy to serve, as you simply take a piece from the pig when you're at the front of the queue. Now that we've got you interested, we offer you two equally tantalising choices.
You can either order a hog roasting machine from us for a very reasonable sum, or you can order one of our many different menus, depending on what type of function you're having. If you decide to go for the first option, then you get to by your own meat, which you can then put onto the machine, and let it roll.
Although difficult at first, we can give you some advice on how to cook a spit-roast if you're struggling. As the equipment you'll be hiring features the latest technology available for spit-roasting, nothing much can go wrong. Once your meat is done, it will be tasty, succulent and a job well done. As well as eating some top-quality meat, you'll have a sense of accomplishment that comes with cooking something to perfection.
Should you want to bypass the process of cooking everything yourself for your function, then the second option is just right for you. Whatever option you choose from our menu, we'll come down to your event and cook and prepare everything for you, from the salads, sauces and stuffing right up to the pig itself.
We have many different menus available to choose from, ranging from the delightfully simple 'pig in a bun', which does what it says on the tin, to the more grandiose Gourmet and Dining menus, which include starters, potato dishes, salads and desserts, as well as a choice of meat or vegetarian options to put onto our state of the art Devon hog roast machine.
As our website says, we cater for weddings, parties, corporate events and even do Christmas specials, and we've done all those jobs in even the smallest village.
We cater for all tastes, and have had no complaints so far, and when presented with a challenge, we've never backed down, so when then ordering a hog roast from our menu is the perfect antidote to all.