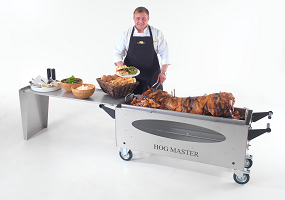 Sometimes the meanings of town names are best left in the record books. What may seem like a completely innocuous name may actually carry some rather unpleasant historic hidden meaning.
Driffield is a very good example. Apparently, the name actually means a 'dirty manured field'. At least the name itself sound pleasant enough. Dirty Field would not have been quite so nice. Whatever the hidden meaning,
I am positive that the good eleven and a half thousand people who call Driffield home, care not one bit. All that matters is that this is a great place to live. This is a town with a great agricultural history.
It used to have a celebrated cattle market but now is home to one of leading agricultural shows in the United Kingdom, celebrating a wealth of farming and agricultural machinery over the years. And of course, with such a great agricultural tradition, it is to be expected that a town like this, knows a thing or two about good quality meat and livestock.
This might just go some way to explaining why the hog roasts are becoming increasingly popular in this Yorkshire town, and why more and more people are turning their backs on the boring and bland old catering solutions in favour of the epic and incredibly tasty Medieval hog roast option. Bad news for cold pizzas and mini kievs but fantastic news for us!
It has been a problem for the last two or three decades, yet it has been something that no-one seems to have been willing to do absolutely anything about. The blight of lousy catering affecting every manner of special events of the years has been bordering on criminal.
I think we all been to events where we have thought how atrocious the food was. At least places like this are doing their bit to get away from this, and in hog roast caterer's such as Taste the Cracklin, they could not have found anyone better to help achieve catering Valhalla.
Hog roast has been a sleeping giant for centuries. Don't forget, here is a feast that was feeding kings, queens, lords and ladies. This was a majestic meal, cooked over an open, roaring fire. This was a meal that was as brilliant as it was simple.
We Only Use Local, Fresh Produce in Driffield
That simplicity is now being celebrated once again with the ever continuing popularity of the hog roast events. And it is that simplicity that resonates with the TV's top chefs. They always preach to us to get the best meat, cook it slowly and enjoy the resulting flavours.
Well, they are right and the hog roast chefs are certainly allowing the meat and cooking to do the talking. The great quality meat comes in the form of superb pigs from reputable local suppliers. These truly are quality pigs, and it shows. The flavour that you get from these pigs is unbeatable and probably a quantum leap from any meat you have had in the past.
But it's not all about just the meat. The cooking process has more than a bit to answer for, most definitely. The chef will spend a long six hours cooking that local pig to ensure that it is roasted to total perfection. Six hours is going to allow all those remarkable flavours in the bones to be soaked up by the meat, creating stunning flavours that your guests are going to adore. The aromas alone tell you that this is going to be one truly tasty meal.
Hog roast is not just a great big taste sensation, it is a totally versatile option too. You may think that, with hog roast, you are stuck with hog roast rolls – which to be honest would not be a bad thing at all as they are stunning – but if you want, the chef can produce you a gourmet hog roast meal. Looks brilliant and tastes brilliant.
And that big pig has other surprises for you and your guests….and a very pleasant surprise for your budget! A regular sized hog roast is obviously big, but did you realise that it is capable of feeding over a hundred people with amazing tasting hog roast meat?
That means that you can probably start adding back on those names that you initially crossed off your guest list. That is if you feel they deserve a fantastic meal? Are you feeling generous? Make your event stand out. Make it a Driffield hog roast event to remember!