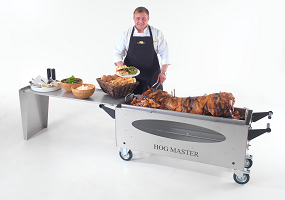 The Region of Durham is famed for having one of the greatest outputs in terms of British academic minds. The University of Durham is best known for excelling in Engineering.
This notion of industry linked to intelligence, makes the Durham area exceptionally important as regards the future success of Britain. Situated on the North Eastern area of England, the 10th Century city of Durham boasts a mystical and illustrious history. It was said that in 995 D, Saint Cuthbert arrived in what was to become the city of Durham and would not move. Thus the settlement was built around him – and Durham was born!
The success of our hog and spit roast event catering cannot be overestimated. It is an understatement to say that people in the Durham area like their food. By offering the very finest quality meats, roasted slowly over dancing flames, our catering services have become highly popular indeed. And why not? – there is simply no better or more tasty way of preparing meat than slow roasting over flames.
In a country where the culinary landscape is continually shifting and changing, our hog and spit roast event catering is a great way to ensure that the best is made better. Instead of having to use fillets and individual portions with our catering, provide the best quality and taste – whilst also keeping costs for our customers very low indeed.
On top of this, our fully skilled and qualified chefs take great pleasure in cooking the meat just to your liking. Accompanied by the most stunning side dishes and accompaniments – there is simply no better way of having the catering done for your next event.
Unlike its more well-known neighbours to the north and south, on the face of it, County Durham seems nondescript. However, the county is full of delightful small market towns, boasts a top university and a vibrant farming community, which is all the better to supply pigs suitable for hog roasting.
As Durham doesn't have any settlement with a population that goes into six figures, it means that there's more room for farms that provide the best quality pork that we can use for the many functions that we have catered for. Despite that, the county is well-connected by road, in particular the A1, it means that we can get to your function quickly, and on time.
When we're out and about doing some of our catering jobs, we often visit local shops in places like Durham itself. From there, we buy meat, bread and many of the ingredients that go into the sauces, salads and sides which we prepare from our state-of-the-art van which we work from. As we buy our raw materials locally, it saves time and running costs, as well as pumping money into the county's economy.
We've catered for numerous events for businesses, charities and families in Durham for years, and have thoroughly enjoyed them all. We've been all around the county, and have had nothing but praise for what we do. We meet many interesting people, and, with every job we do, we keep adding to our expertise in hog roast catering.
As Durham is nestled between the bustling conurbation of Tyne and Wear, it boasts some stunning scenery that surrounds the villages and towns which we serve. That makes County Durham the ideal background for having one of our delicious hog roasts at your party, wedding or corporate function.
One thing in particular which we get a lot of requests for is weddings. When it comes to wedding food, the first thing that comes to mind is cake. While wedding cake is important, and is one of the most memorable things about such an event, you can't feed dozens of people on cake alone. This is where we come in.
As well as the cake, you want the rest of the food to be up to scratch. In keeping with the occasion, you hope that the food will have everyone talking. Sometimes, the usual fare of stale sandwiches, supermarket-bought pork pies and over-salted bowls of crisps won't do. Ordering a fresh, tasty hog roast from us will ensure that you don't have to endure culinary hell after the vows are exchanged and the couple kiss.
If you're planning a wedding, and don't want to worry about the catering, then feel free to contact us. We have an extensive wedding menu, with all tastes catered for. You can choose to either have a spit-roasted pig served with crispy crackling and apple sauce, spit-roasted lamb, chicken, turkey or our vegetarian option. Our simplest menu comes with bread rolls, a selection of sauces, seasonal salad or vegetables and a choice of potato dishes.
Our larger, more extravagant menus include a range of luxury starters, wedding breakfast and the choice of two spit roasts, as if there's a bigger crowd, they'll be clamouring for our fantastic meat. We also include desserts, which are handy for anyone who doesn't like the wedding cake. For all our packages, we include plates and cutlery, so you don't have to bring your own. All you need to to is bring the cake.
Should you ask us to provide the catering for the special day, you'll be safe in the knowledge that, as well as getting top-notch food, you don't have to put any effort into preparing it, as we'll be doing that ourselves.
You don't even have to do the washing up afterwards, so once the ceremony's over, you can relax and enjoy our immaculate feast. All it takes is an e-mail or a phone call, and we'll be there on the big day.