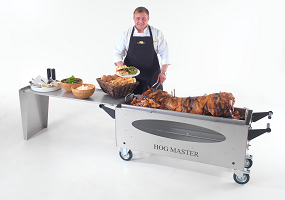 Eversley is a wonderful place, a civil parish and a village, the community has an abundance of wealth and is a safe and great place to raise a family, being one of the least deprived places that there is in England. It's great to live here, let alone have the pleasure of working here as we do.
Actually, there's no better place for us to be. The name Eversley actually means 'Wild Boar Clearing', the boar in itself is the villages symbol. Well, you can see how that works out for us as a hog roast caterer. Cooking pigs is what we're known for, as Eversley is known for the image of the boar it's a perfect pairing.
It also helps that it has so many great venues for events, be it any of the main public houses – The Frog and Wicket or The White Hart for example – or actual private houses, of which there are many which are great for indoor or outdoor cooking.
There's events aplenty in spite of the low population, and being that the boar is a symbol of the village it's perhaps not all that surprising that when catering is on the agenda it's our office which receives the first call.
We often joke that the village sign is the best marketing we've had, subconsciously putting an image of a pig in peoples head so that when catering is being arranged one of the first things people tend to think of is hog roasting!
That's just part of the picture though, because many of our clients keep them coming back to us, and we manage this by giving an out of this world catering experience, bringing to their event a truly wonderful boost of life and wonder, and in the cases of formal events such as weddings and corporate functions our hog roasts give an underlining of regality.
And so when we're at local jobs, the feedback is always overwhelmingly positive, you get good at gauging reactions when you're in the business of catering and we've never had a bad reaction yet. The story is always that of smiles on faces, laughter and sheer enjoyment when there's a hog roast of ours provided.
When the team is out on a hog roast job the two things you never fail to hear is "it tastes great" or "it tastes amazing", and it really does, because we use hog roast machines and chefs that are beyond criticism, they work perfectly together and the bottom line is crunch crackling, succulent meat, ambrosial apple sauce, scrumptious stuffing and flavoursome fresh bread rolls – nobody can say no that.
Except maybe for the guests who don't eat meat or pork, and for those we always give a cracking alternative dish which they never fail to enjoy. It seems odd that a hog roasting caterer would make the best non-meat dishes, but if you speak to any of the vegetarians who've been at an event we've catered for that's exactly what they'll tell you.
Exciting Flavours In Hog Roast Eversley
The hog roast catering that we represent is phenomenal no matter the measure. Food? Tick. Service? Tick. Communication? Tick. We ace the test for every client, no matter who the client is.
Such is our catering ethos that we have clients from all backgrounds for events of all size. We have many clients, some who need catering for hundreds of people, others who are booking a hog roast for just 10 people for a friendly get together or a pleasant business breakfast.
Taste the Cracklin's Eversley Hog roast enjoys a similar broad appeal to clients with a mixed-bag of different occasions and details. There are clients who we hire to so they can make a hog roast for 200 guests, and the next week we might be hiring to a client who's hiring for a smallish barbecue for 20-30.
The hog roast hire is one of our other services which keeps us on our toes, with hire and catering there's always something for our team to be getting on with.
If you're considering hiring you ought to give our machine hire page a read to learn more about the different machine types available to you, and of course the length of hire which is right for you. From there you can use our website to receive a quote or you call call us and do the same, we'd be happy to talk you through the strong points of either Hog roast hire in Eversley or hog roast catering.