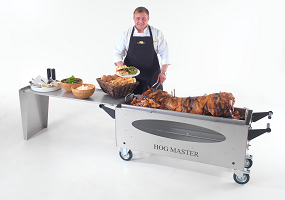 Like many other towns in the UK, Fareham is a market town with a history. There is evidence of Roman settlement in the area, however there are so many other historic building there it prevents further investigation. The market itself has been running as long as 800 years, since the days when street markets were a regular feature of English life.
Today the market is held every Monday, with another in nearby Portchester on Wednesdays. Throughout the year there are other themed markets, like French, crafts, or Christmas. There is also a Farmers' Market on the first Saturday of every month. On offer is everything from fruit and vegetables, free range eggs, exotic and rare breed meats, even locally brewed beer.
The emphasis is on local here, as according to Fareham Borough Council's website the produce must have been "grown, reared, caught, brewed, pickled, baked or processed within the 'local' area". Preference is given to the most local producer – merely being homemade is not enough, if home is too far from the town.
Great Food With Hog Roast Fareham
At Hog Roast Fareham we love that kind of emphasis on local efforts. In order to really know our customers, we keep our services locally focussed, and this means dealing with suppliers in the area. There's nothing better than well-produced, decently cooked meat, and customers love to know its provenance.
It's not only its origins that makes our Hog Roast Fareham meat taste so good. The roast is slow cooked over hours (an average-sized pig can take around six), basting in its own juices to make it amazingly tender. Because no oil is added it's a healthy way to cook, as well as bringing out the best of the flavour.
Our chef carves the meat straight from the bone, into rolls piled high with sage and onion stuffing and apple sauce. It's always great to watch a crowd peering round to get a glimpse, just the sight of it is enough to make you hungry! Of course not everyone eats pork, and we can cater for them as well. Vegetarian options are available, and for an entirely pork-free gathering we also offer lamb, chicken, beef, or turkey.
As well as local produce we love local venues at Hog Roast Fareham. While big events and festivals can feed a lot of people, there's just something about catering for a smaller venue like one of the amazing local pubs.
The public house can be a community hub, bringing people together, and the addition of Sky TV can only heighten that. It's great to set up in the beer garden and listen to the cheers and shouts the fans aim at the football or Olympic team.
Since our staff are on site setting up long before the match has finished, people wander out to find out where the stomach-rumbling smell is coming from. They love to chat at half time, especially if the team are doing badly! No matter the outcome though, a proper English roast is bound to cheer them up.