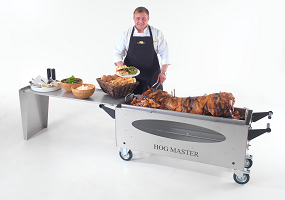 Well the Taste the Cracklin hog roast team in Fordingbridge are gearing up for a busy autumn season. We didn't let the rainy summer damp our spirits or ruin the events we catered for and we certainly don't intend to let the colder weather stop us either, because providing the very finest hog roasts to our clients is what we do best!
The hog roast team in Fordingbridge knows that the best way to entertain and feed your guests is with one of our very special roasts. Just imagine the scene: at your venue of choice our team will come along and dress your tables with style and panache, though of course following your instructions closely, while the chefs get started on the roast itself.
It takes several hours to roast a pig to juicy perfection so by the time your guests begin to arrive they will be greeted by the jaw dropping sight of your marvellously decorated venue and a whole pig slowly turning on the spit a deep golden brown and releasing all it's flavoursome aromas into the air. It really is the kind of spectacle that has people talking for weeks. And for all the right reasons!
Our hog roast events are a really special kind of feast that fit in with any type of event because the great taste and quality of produce will always remain at the core of the meal whether you dress it up or down. We spend a lot of time with our suppliers to make sure that we buy only the finest, high grade, organic meats for your hog roasts.
This way you can rest assured that not only will your pig roast Fordingbridge meal be as delicious as ever, it will also be healthy and the best quality. It's for this reason that no matter where we take our specialised ovens everyone gets a hearty and tasty meal.
One of the things we really enjoy is taking our ovens to out door events and catering for the general public. You'll find us at farmers markets, village fetes and galas along side sporting events and any other gathering of people.
When we cater for these out door events, we obviously pare down our wide range of foods to the essentials. This means a floured roll chock full of delicious, melt in the mouth hog roast with warm, herby stuffing made by our chefs and a zingy apple sauce which so beautifully compliments the delicate flavour of the meat.
It's always a great time for us as inevitably people are so impressed with the great taste of their roast that they come back to us for a little natter about just how we manage to create such great tasting food
Of course we also cater for much larger and more formal functions. Infact we can comfortably cater for guests who number well into the hundreds. And our formal service is second to non for style and efficiency.
Fine Dining Experience With Hog Roast Fordingbridge
The winter season is usually a very busy time with Halloween, Bonfire Night and of course all the Christmas parties. Hog roast hire Fordingbridge are particularly impressive at corporate functions where, with a buffet format, everyone can mingle and eat as much as they want together. And the sight of a whole roasting pig slowly turning on the spit pole is a great conversation starter
We also offer a wide range of menus which have been carefully put together to reflect the needs of a number of different events. Not only do we offer our signature whole spit roasted pig, but we can also provide whole lambs, specially selected cuts of beef, rotisserie style chickens, turkeys and a number of bbq foods.
Along with these beautifully cooked meats you can choose from a selection of salads and starters all prepared on the day on site by our talented chefs and served fresh to you and your guests.
Hog roasts are such a fantastic way to eat and we have had so much interest in our ovens that we now have ovens available at hog roast hire Fordingbridge.
As hog roasters ourselves we have designed our ovens with the roaster in mind. They come in several sizes depending on the number of guests. All our ovens have strong wheels to make gaining access to any venue over any terrain as easy as pie.
Having used less than satisfactory machines ourselves in the past, we have designed a range of tools and accessories so you can make as diverse a range of foods as possible.
All our ovens come with a fully motorised rotating spit pole; all are gas powered and have a thermostatic control to give you greater control during the cooking process. All of our machines are made from tough stainless steel which makes them strong, easy to clean and gives them a pleasant over all look.
So if in these difficult times you are looking for a way to make some great nutritious food without breaking the bank, give the friendly team a call and we'll get you started. We'll even give you a guided tour of the oven and a tutorial so you can get the very best from it.