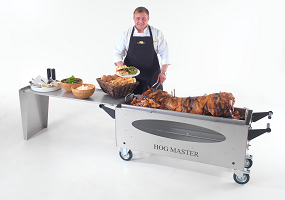 We're hog roast caterers in Gerrard's Cross; and we're always busy. I love catering because you get to meet so many people.
Gerrards Cross did not exist until 1859, so it's a fairly new village. There's a parish church is dedicated to St James. The village has its own well stocked library (great for a nerd like me), a two screen cinema and lots of restaurants.
Despite being a village, it's in the "commuter belt" and not far from the urban sprawl. Gerrards Cross is a pretty exclusive place; it's sometimes referred to as 'mini Hollywood' due to its celebrity residents. Houses are expensive here, it is the most expensive postcode to purchase a property in the country outside the capital.
Obviously, catering in such an very upmarket neighbourhood has its challenges, because everything must be done to the highest of standards. The roast itself has to be picture perfect. The customer service must be second to none, and the carving and serving of the roast is like a mini show in itself.
So, at Taste the Cracklin hog roast hire, we always adhere to the highest of standards. We provide a catering service which includes decorations, bread rolls, condiments etc, and also a hog roast hire service which means that clients with a more do it yourself attitude can hire our hog roast machines.
We cater all sorts of events, from VIP events to charity fundraisers to community events and birthday parties.; lots of weddings and corporate events, too. Usually the corporate events and weddings are the most glitzy, but in Gerrard's Cross our clientele is, obviously, different than in other towns.
So often private Christmas, engagement or birthday parties outshine some corporate events, which we don't usually see anywhere else.
The preparation starts in our kitchen, where our chefs prepare the meat using spices and sauces to enhance the flavour. I often wander down there and check what's going on; I really appreciate the whole process from loving preparation to roasting it in the machine, and the carving and serving.
Great Food For All Occasions with Hog Roast Gerrard's Cross Bridge
Recently, we were catering for a birthday party, which was a change from all the other events – both private and corporate – we'd been catering for. We got to the hotel, put up the balloons (pink and purple),set out the bread rolls and moved a couple of tables. Then we set up the hog roast machine and some other members of the team staggered in carrying the roast.
We soon had it turning, giving off heat and the distinctive, delicious smell of hog roast. We were ready in good time, and our clients were pleased when they saw what we'd done. We had a while till the guests arrived and so we got chatting with our clients.
When the guests began to arrive, we were busy greeting them, showing them to their seats and pouring out drinks. One of them told me she'd never had a hog roast before. After a while, it was time for my favourite part – carving the roast. I just love it when I see people eating and enjoying the food we've spent so long preparing. Especially since we always get great feedback.
The thing about the catering industry is that it's very competitive and you've got to make everything look good, especially in this area. Another thing, though, is that it's very diverse. Take yesterday, for example; we delivered a hog roast machine to the function room of a local pub, for a Christmas party a young woman was throwing for her friends.
Her friends all wanted a go at the machine, although you don't really have to do anything with the machine; it turns by itself. They seemed disappointed that they didn't have to turn it like an ancient spit. As the hog was already there, we helped them put it in the machine. It smelled good, though not as good as ours.
I suggested apple sauce to really bring out the taste, and one of them dashed out to get some.
We definitely get to cater and hire for all sorts of events here at Taste the Cracklin hog roast in Gerrard's Cross.