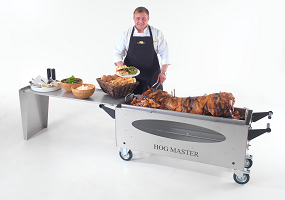 Gillingham lies in the beautiful rolling countryside of Kent where the local brass band regularly play their shiny instruments as they march through the streets.
The Taste the Cracklin Hog Roast team in Gillingham are also to be regularly seen darting about in their van as they cater for a whole host of functions in and around Gillingham. This summer may have been unpredictable and a bit disappointing, but the fun must go on and both caterers and customers have not let their spirits be dampened.
Just recently, the Hog Roast team were setting up their oven to cater for an old school reunion in the town. We pride ourselves on being flexible and friendly. When you ask us to cater for your event, we will discuss exactly what is required and from there create the perfect style of dining to fit your needs.
The organisers of the school reunion felt it would be best to have a buffet style evening so that the guests could eat when they chose and still be able to mingle without being committed to remain at one table. Of course we were more than happy to offer this service, just as we are when a formal sit down meal is required.
The buffet was absolutely perfect for this reunion: having the whole pig slowly rotating on the spit roast oven as it cooked was a feast for the eyes as well as the tummy and quite a lot of people remarked on the spectacle.
Along with our main dish of beautifully roasted pork, Hog Roast Gillingham prepared a delicious warm stuffing and a tangy apple sauce which perfectly compliments the tender juicy meat. From our extensive range of menus we were also asked to provide a warm and a cold salad.
Experienced Hog Roast Gillingham Catering Team
As it can take several hours to fully roast a whole pig, we use the time to prepare our accompanying dishes which means you know they are being served to you fresh and crisp for maximum flavour.
The guests were able to come up to the serving station as and when they wanted, where they were helped by our serving staff who are highly trained and always assist customers in a professional and polite manner.
We at Hog Roast Gillingham pride ourselves on the tender, melt in the mouth roasts we are able to provide for our customers. But it wouldn't be possible without our custom designed hog roast ovens.
The various attachments mean we can cook different meats ranging from the whole roast pig to rotisserie chickens and kebabs which in turn means we can offer a diverse range of foods to you.
And because our ovens are gas powered, we can roast at indoor events without the fear of creating a smoky atmosphere. In fact all you will smell will be the delicate aroma of beautifully roasted meat to whet your appetite!
If you're hosting an event this year and would like something special and out of the ordinary, why not give the Taste the Cracklin Hog Roast Team in Gillingham a call and let our friendly staff create the perfect meal for your event.