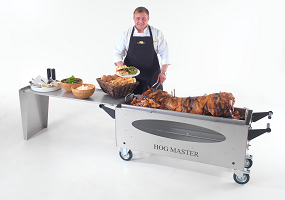 Haggis is famously a national food in Scotland, but that doesn't mean they don't enjoy a good old-fashion hog roast – and here at Taste the Crackin Hog Roast in Glasgow, we should know.
The city itself has a great relationship with food, something that we find important. The city's West End has been described as "bohemian" and is crammed full of cafés, tea rooms, and bars. One of the city's many websites, seeglasgow.com, boasts that you can literally "eat your way around the world" in the city.
Plus it has not one, but two Farmers' Markets, each of them running twice a month. The city also has dedicated fish and fruit markets. With more markets than you can shake a carving knife at, it's obvious the people here care about their food.
Glasgow is a great and lively city. It's the largest city in Scotland, which means plenty of opportunities for us at Hog Roast Glasgow to provide our services. Whether it's weddings, anniversaries, or parties, it's always buzzing.
Fine Dining With Hog Roast Glasgow
Our lightweight stainless steel machines are easy to manoeuvre, so we can get to a party almost anywhere, be it a back garden or patio, gravelled drive or tarmac. Once set up our chef will get on with preparing the rest of the food while the food cooks, leaving the guests to get on with having a good time.
It's not only hogs that we roast, we understand our customers' need for alternatives, perhaps for a kosher or halal celebration, so we also offer lamb, beef, chicken, and turkey as alternatives.
You can also order vegetarian alternatives, sausages and burgers, salads or sides, depending on the occasion. Our menus are extremely customisable. We even cater for weddings, and can provide a reception buffet or a full formal dinner with waiting staff.
With a population of around 600,000 people, Glasgow also has plenty of pubs to cater for everyone. That's great for us too, as we often take our roasts to pubs, setting up our roasts in a gazebo in the beer garden, while people gather to watch the football on the widescreen TV.
It's amazing to add to that sense of bringing people together you get from the combination of pubs, sport, and beer.
Our roasts themselves provide a talking point. Because our machines are glass fronted, you can see the meat sizzling and the smell fills the air for a long time before we're ready to serve. Then, of course, there's the sight of the chef raising the pig for carving, which is always done in front of an appreciative audience.
Not that there's much talking once everyone gets their hands on a bap full of warm meat, apple sauce, stuffing and crackling.
While small villages have their charms, we really love the hustle and bustle of a city like Glasgow. There's always something going on, and always someone to cater for – and of course the more we roast, the more satisfied customers we leave behind us!