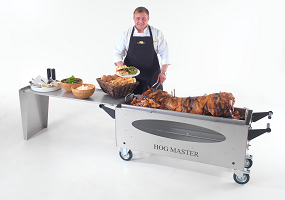 Big cities are home to big events, whether corporate or private. Gloucester, whilst not been the biggest city in the UK and with one hundred and forty thousand people residing in the city, that's a lot of potential events.
Maybe you live in the city Gloucester and have either been given the task of organising just such an event? If so then you need to learn about the benefits of making your event a Taste the Cracklin hog roast event. You may be surprised that basing your event around hog roast could be a very smart move indeed.
Before you do anything else, think about the style of event that you are in the process of planning. It may sound obvious but the nature of the event determines quite a few of its elements, and that can include the catering, especially if you are going with the roasted hog option that more and more people are choosing these days.
The modern wedding can be a very upmarket and outlandish affair these days so the meal for the wedding reception should be equally impressive. Trouble is, a quality reception meal costs a pretty penny and if your wedding reception party is large, the cost just gets greater.
Choosing Taste the Cracklin to cater for you could mean your problems may just have been solved. On the face of it, hog roast may not sound like your typical reception meal but this is a multi-talented dish and it is very capable of being the posh nosh that you desire.
Simply let chef know when you book them that you want the meal to be served in a gourmet style and you will not be disappointed. Hog roasted pork meat can be carved into the most elegant slices and looks wonderful when served with all the usual accompaniments. It is a wonderfully inventive alternative to the traditional reception meal options and one that all your guests will thoroughly enjoy.
Another aspect that your guests will be enthralled by is the actual cooking process. Don't forget that hog roast really is a spectacle with a whole pig undergoing a wonderful slow roasting which takes a total of six hours.
Now, some of this cooking will of course take place before you arrive but the roasting continues for all to see. It makes for a wonderful sight and is a little added sparkle to what is sure to be a fantastic day.
Another thing to wonder about is why this form of cooking is beginning to enjoy a second wave of popularity as a great special occasion food at anniversaries, birthday parties, corporate events, garden parties and even wedding receptions.
A Hog Roast Is The Perfect Addition To Any Party in Gloucester
Our chefs have been getting busier and busier in recent years, so it must be that the humble hog roast, after years in the wilderness, is coming home to a new found appreciation. Rightly so, too, because it really is a quite amazing feast, and to see it off the special occasion radar for so long has been a travesty, especially when you consider the alternatives that have been masquerading as 'special event meals'.
I did mention great value but you may be wondering how such a delightfully entertaining meal can be so affordable? The secret is in the sheer numbers that hog roast can accommodate.
It was of course a medieval feast originally and hog roasts would been served to feed a large number of people, so it should really come as no surprise to learn that a single pig of average size should be able to feed over one hundred people. This should really help bring your all-important cost per head budget down significantly.
You may be thinking that the decision to go with this is all well and good and that the novelty value of having a meal spit roasted for all to see is enough, but that would be missing the point. A hog roast chef is a true professional and will produce you a meal that will taste amazing and do any special occasion proud.
The delicious taste of hog roast thanks to the slow roasting and the quality sourced meat will really impress your guests and make them wonder why all special occasion food in Gloucester cannot be as wonderful as hog roast.
Well, once they know your secret, it may not stay secret for too long, and Taste the Cracklin's hog roast may soon be a feature at many more Gloucester special events, all thanks to you!