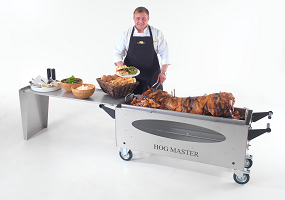 The ceremonial county of Gloucestershire is home to some of the most valuable treasures within the British Isles. Not in a onetary or artefactual sense however.
This is because the treasure which Gloucestershire has is based in the nature of the people as well as the beautiful and undulating topography which runs and percolates through its territory. As the nations and regions leading hog and spit roast event catering specialist, our menus and cateering operations give our clients the very finest when it comes to the high quality food which is served to them by our fully trained and highly qualified staff. We have succeeded in helping to create some of the finest wedding memories at the catered events of the people there.
In 2007, the largest flooding in recorded British history took place. It was great to see the people pulling together in order to alleviate the stress and damage as best a they could. The RAF pulled off he largest peacetime rescue in our Island's history – what a feat!
Hog Roast catering is fast becoming one of the most popular methods of event catering. Just as with the rise of the celebrity chef and the increase in high quality food being demanded more and more across the country – so too is the increase in our services following suit.
Our culinary exploits have received local fame, however we believe our catering formula is relatively simple. By using only the freshest and highest quality of meat, we ensure that greatness is there from the beginning. After this, our slow flame roasting and exceptional service ensures greatness never leaves.
It has a stunning cathedral, a world-famous racecourse, a well-known cheese sold across the nation and hosts a large stretch of one of the longest rivers in the country. Despite all that, Gloucestershire is a county that's often overlooked in favour of other counties which have similar claims to fame.
However, being a well-kept secret has its advantages, which is handy for both canny tourists and natives, who don't have to endure the problems of crowded high streets and long queues at shops. Like its neighbours in the South West, Gloucestershire is full of gastronomic delights, and we aim to add to the fabric of all that by giving you the opportunity to sample one of our delicious hog roast meals.
We have served customers in all the small towns and villages that dot the county's landscape with our catering services, and continue to do so without fail. One activity that is exceedingly popular in Gloucestershire is going to watch horse racing at the famous racecourses.
Whatever your social background, going for a day at the races is great fun, especially if you happen to win a bet. Whether going to the festival, or just for a stand alone event, you always want to cap off a great day with a fantastic meal, and this is where we come in.
Although the racing itself can be exciting, some of the catering there is below par. A greasy, overcooked hamburger or sausage roll just won't do it, whereas having some spit roasted pig, lamb, beef, chicken or turkey from one of our roasting machines is the perfect way to end your day.
As the meat rotates while cooking, it's always evenly done, while it also retains most of the juices, and you don't even have to add oil like you do when frying meat.
A couple of months ago, I had attended a family party which was held in my local village hall and I had chomped down on many hog roast rolls which were served to us courtesy of a hog roast caterer.
Not only did the hog meat taste wonderful but there were several other types of meat which we all feasted on over the course of a very enjoyable evening.
So having to organise an event for my business, after telling all of my colleagues, manager and also clients, I booked the hog roast caterer weeks in advance and was pleasantly surprised with the level of service which they provided even before the actual event.
A few weeks before, I was contacted by my hog roast caterer about the exact service I was to have. Every tiny detail was discussed through with me about every item of food. As our conversation was due to end, the overall price was quoted and I was told that if I was unhappy with the price they would be able to offer a different price which was more cost-effective.
But, due to the level of this pre-event service I had already received I was more than willing to agree to this costing. All there was to do was wait and continue to spread the word.
When the big day came, I was further impressed by the service provided by this hog roast catering company. Not only did they contact me a few hours before my party but they confirmed with me about the address so no confusion would be made. As there were an anticipated large number of people due to arrive, this put my mind at ease.
When 7.30pm struck, a steady stream of people turned up and were soon tucking into their first serving of hog roast. Impressed by the way in which it is cooked as the hog oven which he used gives a hog a distinct flavour, they were also impressed by the variety of meats which they were being served.
Not only was hog on offer but also lamb and beef which, as I found out personally, combining them all together not only smelt brilliant but the taste was simply wonderful.
As my guests continued to arrive, by the end of the party the main hub of conversation was about the hog roast they were eating. Many of my former colleagues are vegetarians and they appreciated this, especially when their food was extremely tasty.
Even the dance floor was left empty as the queue continued to grow as by the end of the night there wasn't a scrap of food left to be found. The party was a resounding success which was largely attributed to the hog roast we all enjoyed so much.
Having spent a large part of my life with wonderful people, by choosing a hog roast caterer allowed for a perfect end to a wonderful time and I strongly urge others to follow my example and choose a hog roast caterer for all your catering needs.