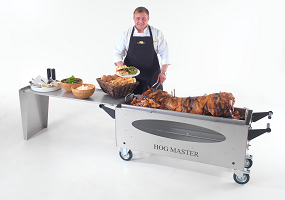 Grimsby folk can be a difficult bunch to keep happy. After the entire town allegedly got its name from a chap called Grim no less. He was a Viking and believed to be the founder of Grimsby (or Grim's village). Vikings were supposedly a bit of a tough crew and it may just be the case that a little bit if of that 'grim' determination still exists in the eighty odd thousand population of this Lincolnshire town.
Despite this 'grim' little bit of history, Grimsby is in fact a thriving town certainly one of the many places in the UK where you can enjoy a hog roast Grimsby style.
There has been a rise in popularity of the hog roast, especially in and around Grimsby and indeed, across the UK. Everyone now has a wonderful opportunity to try something a little unusual yet surprisingly delicious in the shape of a hog roast. It can provide the guests at your event with something just that little bit different from the norm in occasion food, bringing a touch of historic cooking methods and true fresh cooking flavours to the table.
It can also be something of a worry when you sit down and try to think of a great catering solution for your event. There are always a few people who don't like this or don't like that…and you end up always leaving a few people a little disappointed.
Choosing a Taste the Cracklin hog roast could be the ideal solution and you may just find that you have at last discovered the secret to keeping everyone happy.
Take the plunge and book the Taste the Cracklin hog roast team and you will never look back, in fact far from being 'grim', you are going to be in for a glorious event. You will find that the hog roast caterer will certainly take a lot of pressure off you because they can look after every aspect of the food at your event, leaving you to look after the rest.
A Hog Roast In Grimsby Is A Feast For The Eyes And Palate
Let's face it, there's always stuff that needs sorting out so not having to worry about food is a real relief.
The hog roast chef will be very experienced in catering for events like yours week in and week out and the planning starts with the raw ingredients. What you need to know with hog roast is that this is a truly freshly prepared meal.
No frozen meat and no pre-packaged nonsense: hog roast is quality food that is cooked specifically for your event. Probably the most important aspect of any great freshly prepared meal is top quality ingredients, and in the case of hog roast, we are talking a great quality pig. Not just any old pig but one from a highly reputable supplier. Grimsby hog roast means great meat, nothing less.
For the actual cooking process at your Grimsby event, the hog roast chef employs the use of the hog roast machine. This is a rather fancy modern take on the traditional spit roast and it looks very impressive.
This will be the 'stage' where the chef will complete the roasting process of the pig and do so in full view of all your guests. If you've never seen it before then it's a great thing to watch, but be warned: the aromas of slow roasting hog roast can be addictive!
One of the things that everyone is concerned about in Grimsby is raising prices. Catering is no different and nothing is cheap these days, but you can still get a relative bargain. Hog roast is just such a bargain, for there cannot be that many catering solutions for special occasions that allow to feed over one hundred people from a single pig.
The wait for the food to be ready may be a difficult, especially with you having to fight the temptation of the incredible hog roast aromas, but it will all be worth it.
But will you have enough to satisfy all your Grimsby guests? The answer will almost certainly be yes because hog roast is a most accommodating beast, able to provide enough pork meat for over one hundred people. That's great going if you are trying to cater on a budget.
What is even better news is that hog roast Grimsby allows you to cater for an event with great tasting food, something that is so often the missing ingredient at special occasions. Choose Taste the Cracklin, the Grimsby hog roast caterers and you can guarantee an occasion that is not grim at all.