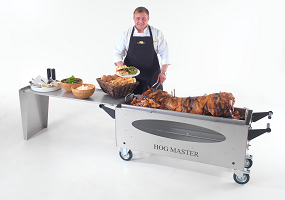 King Henry V111 gave Hailsham a market Charter in the mid 1200s then it became a market town. Over nineteen thousand people now live in Hailsham which has all you could ever want, from museums to theatres. Fanny Craddock and Led Zeppelin's manager have also lived there too.
Taste the Cracklin's hog roast catering in Hailsham can be made from pork to lamb. Our hog roasting machines are adaptable you can even cook chickens.
In medieval times the pig was cooked on a spit over an open fire, although has been now been replaced by a modern hog roast machine. What makes it special you may ask not only does it become a centre piece of the party but the cooking process keeps the meat succulent.
We aim to reply to enquiries made on the website and phone calls within 24 hours. There are set menus such a hog roast on a roll done with a range of different meats and can also include our homemade burgers from our more complex menu.
We reply with menus within your price range and a quote, such as the hog roast on a roll is great for corporate breakfast. We do sit down buffets for events up to four courses and can include a pre dinner drink and canapés.
We can do a vegetarians option such as Lasagne, and mouth watering desserts such as strawberry cheesecake or apple crumble if you want. Some menus have Chinese or Indian starters and fish dishes so there is something for everyone.
Great Food For All Occasions in Hailsham
Taste the Cracklin's hog roast hire can cover themed events maybe its Cowboys and Indians for the re-enactment group. Now we have a surprise Korky the Kat from Dandy.
Meow to you all well I am here to talk about the hog roast I went to with Desperate Dan he has one big appetite I saw him eat a Cow Heel Pie. He had tickets for a charity do when we got there he was huffing and puffing and muttering that he wanted the whole pig.
I reminded him it was for the poor homeless dogs and cats he had 5 hog rolls, four jacket potatoes and so it goes on… Then a woman called Daisy was arguing over the Chocolate Torte Daisy was a big woman more like a fridge all muscley. One thing led to another and put the Torte on his head and he laughed from them on well they are an item. One big lummox to another if you asked me.
My opinion the meat almost melted in your mouth as it cooks in its own juices, 2 different salads, potatoes wedges yep it filled me up and Dan was full too!
People are often surprised to find it's often cheaper than they thought it would be. Especially when you consider a whole pig can feed in excess of 100 people!
The secret is that the meat cooks in the juices it literally cooks itself, so you could save even more money by hiring one of our machines and doing the cooking yourself.
Either way, we handle every from delivery, and demonstrating how to use it and then collect when you're finished. The hog roast machines come in two different sizes for the smaller party or big occasions such as weddings. All of our machines are regularly tested so they meet health and safety standards and they are CE marked.
We love catering at events here, it is a lovely place, surrounded by beautiful countryside there are lots of walks. For the adults there are four pubs including a nightclub. The Pavilion Hall has acts and Summerheath Hall houses a theatre. From festivals to an arts gallery Hailsham has it all. For history try the castle or Priory – we hope to hear from you soon.