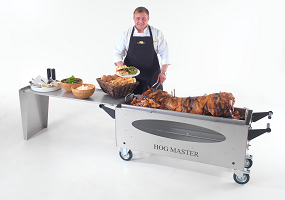 It has been a bumper year for hog roast Hamble, with our catering service and hog roast hire in demand throughout the calendar, with more to come over the autumn and winter months.
Our experienced catering team are ready to meet this demand, taking catering orders for business functions, private parties of various sizes, bbq's, wedding receptions and large public occasions. We also have machines available for our hog roast hire service; they're portable, easy to use and geared towards cooking your choice of meat perfectly.
The events surrounding the Royal Wedding and Jubilee meant that official functions and private gatherings were being organised across our community to commemorate these events of national significance.
A good number of them took the opportunity to give their parties an added touch of indulgence with a communal hog roast. It's fitting that the best of British produce, prepared, cooked and served in the most sympathetic method possible was given pride of place in streets and gardens across Britain. And there's nothing as traditional across the whole world as friends, families and colleagues gathering around a hog roast hire Hamble, the centrepiece of the ultimate rustic feast!
The Darlington Rhythm and Blues festival takes place in the market square in September. We took out a couple of machines to this year's event, and a scrumptious pork pit-stop proved a hit with fans eager for something tasty and filling while hopping between stages and watering holes.
Whether dishing up a treat outdoors or catering for a more lavish seated indoor affair, we can also provide a range of other dishes, along with crisp salads and delicious starters, to lay on an impressive array around the hub of the feast that is the roast itself.
Our attention to detail and flexible menu options mean that hog roast hire Hamble is also ideally suited to giving an extra bit of pizazz to more formal occasions.
Unbeatable Flavours To Treat All Your Guests in Hamble
Taste the Cracklin's hog roast catering are perfect food theatre for bonfire nights. Our presence at the Fireworks spectacular in South Park helped establish a wonderful atmosphere, the light emanating from the fire catching the gorgeous glaze of a prime pig roasting.
Young and old gather round to refuel with tender, delicious pork generously packed into a fluffy bread roll. It's a real pleasure to see faces light up as we spoon on some of our home-made stuffing, and of course as they savour the unmistakable crunch of perfect crackling.
As the last embers of the fire fizzled away and the final Roman candle had burned out, we were fortunate to have stocked up well, as they turned their back on baked spuds in tin foil and bangers to sample locally-sourced meat done to perfection. Our catering vans carry marquees to house the roasting area, so that cooking and serving remains unimpeded by a little inclement weather.
Our animals are delivered to the venue completely fresh – no pre-cooking takes place. Not only does this ensure that you are guaranteed the most sensational taste, but also that you and your guests get to fully appreciate the entire cooking process.
The first aromas are mild; suggestive even. As the heat takes full effect, they become more intense and tantalizing. This is when mouths begin to water and gazes turn to the turning spit. By the time your hog is perfectly basted and cooked, everyone is aware that they're in for a real treat.
This is the way food is meant to be served; feeding your guests isn't just about ticking a box – it should be as important an element in making good times as the company and the entertainment.
Christmas is a time when many of us cut loose and indulge ourselves. What better way to bring picture postcard wonder and filling cuisine to your festive bash than to set up the crackling fire that just keeps on giving?
And it's not just pigs that we accommodate on our machines! We have 2 CE-registered, state-of-the-art machines, one of which is a larger model . The smallest can cook up to 15 chickens, and for the more advanced machine you can double that statistic! The interior grill is also ideal for barbecue food such as burgers and sausages.
If you want our friendly, established catering team to take all the stress out of serving up at your event, or if you want to browse our hog roast hire machines, contact us and we'll get to work on making sure you have a spectacular day.